This photo shows British and American (not Kenyan and Spanish) long-distance runners
A Facebook post with a photo showing two athletes hugging has been shared hundreds of times in South Africa, Canada and Europe, accompanied by claims that it shows runners Abel Mutai from Kenya and Ivan Fernandez from Spain. The post goes on to explain that during a race, Fernandez saw Mutai slow down because he mistakenly thought he had reached the finish line -- but instead of sprinting past him, Fernandez guided him to the finish line. However, the photo actually shows British and American long-distance runners Mo Farah and Galen Rupp celebrating after winning medals at the 2012 London Olympic Games.
The post was published here on Facebook on July 24, 2021, in South Africa, and has since been shared nearly 700 times.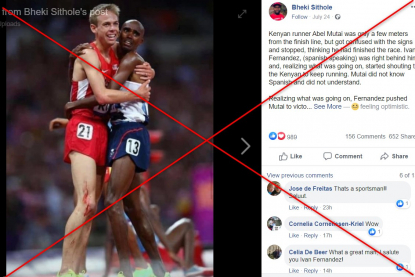 Screenshot of the post, taken on August 4, 2021
The same claim has also been shared thousands of times in Canada, Belgium, Italy, and Germany. 
The posts are being shared as the 2020 Olympic Games unfold a year later in Tokyo. And while the touching story about Mutai and Fernandez is true, the photo accompanying the post is not of them.
Mo Farah and Gallen Rupp
By conducting a reverse image search, AFP Fact Check found that the photo shows British athlete Mo Farah, a four-time Olympic champion, and American Galen Rupp, Olympic silver and bronze medalist at the 2012 London Olympics.
The photo is available on Getty Images, which indicates that it was taken on August 4, 2012, by photographer Michael Steele; it shows the two athletes celebrating Farah's victory and Rupp's second place in the men's 10,000 metres final.
AFP photographer Olivier Morin also captured the scene of the two athletes embracing, resulting in a nearly – but not quite – identical image.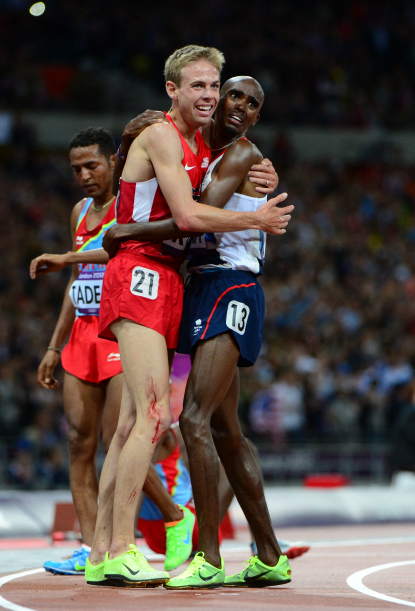 Mo Farah (R) celebrates with second-placed Galen Rupp after winning the men's 10,000m final at the London 2012 Olympic Games on August 4, 2012 ( AFP / OLIVIER MORIN)
Thirty-three-year-old Rupp qualified for the 2020 Tokyo Olympics, which is being staged a year later because of pandemic restrictions, while 38-year-old Farah failed to make it. 
Story of sportsmanship 
In late 2012 and early 2013, news outlets (including here, here, here, and here) reported that Kenyan athlete Mutai was helped to victory by Spanish runner Fernandez at a race in Spain after Mutai slowed down, thinking he had crossed the finish line. The scene was captured on video. 
Fernandez shared a photo of him and Mutai on his official Instagram account in December 2020.
 

 

View this post on Instagram

 
However, AFP Fact Check did not find any trace of the dialogue shared in the posts, where Fernandez reportedly speaks about his mother.
Speaking at the time to a reporter in this video report, the Spaniard said: "When he had about 30 metres to go, he stopped [and] greeted the people who were watching the race. I was behind him and could hear what they were saying to him. They were telling him that he should continue to the finish line, but since he didn't understand the language, he stopped. So I came from behind and pushed him to the finish line (...) I didn't have the opportunity to talk to him because he does not speak Spanish or English well. He hugged me and that was it."
Fernandez was also quoted by Spanish newspaper El País as saying that if they had been competing in a more important event, like the World or European Championships, he probably would not have made such a gesture. 
AFP Fact Check published a French version of this debunk here.