Misinformation shared about Hong Kong reporter who 'made athlete cry'
A TV reporter has come under fire over accusations she made an athlete cry by asking if her career "just ended" after she lost a match at the Tokyo Olympics. The claim, shared widely on social media, is misleading; the reporter asked Hong Kong badminton player Cheung Ngan Yi, "how important is this experience to your career as an athlete?" Cheung told AFP she was not asked if her career was over.
"I heard that a reporter from CCTVB asked Cheung Ngan Yi, who had just lost a competition: Has your career as an athlete just ended? And Cheung Ngan Yi immediately burst into tears," reads a traditional Chinese language Facebook post published on July 28, 2021.
The post went on to slam the "crazy" reporter from Hong Kong news station TVB, a pro-Beijing channel unpopular with pro-democracy advocates who dub it "CCTVB", a pun on the Chinese state-owned broadcaster CCTV.
Hong Kong badminton player Cheung Ngan Yi lost to India's superstar PV Sindhu in the women's singles at the Tokyo Games on July 28.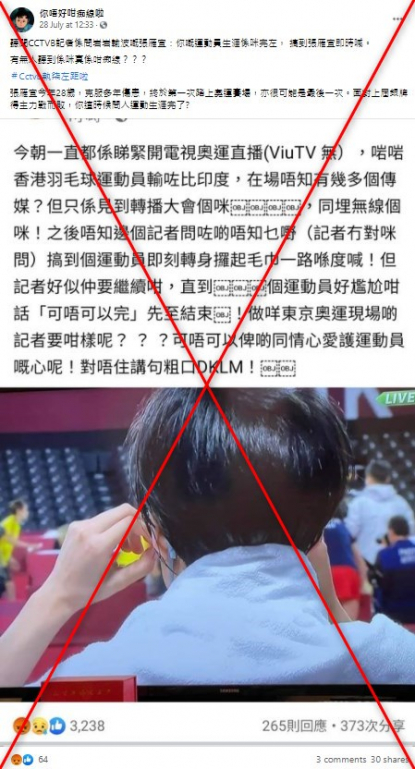 A screenshot, taken on August 2, 2021, of the misleading post. ( AFP)
Similar posts were shared on Facebook here and here, and on Hong Kong online forum LIHKG here and here.
Hong Kongers had already attacked TVB after a reporter shouted out a "love confession" to champion fencer Edgar Cheung ka-long, cutting him off as he thanked coaches after winning a gold medal. She later apologised for her "immature and unprofessional" behavior.
However, the posts about Cheung Ngan Yi are misleading.
A video of TVB's post-match interview with Cheung posted on the broadcaster's website reveals the reporter did not ask if the athlete's career was over.
The reporter's actual question in Chinese, heard at the 02:38 timestamp, was, "How important is this experience to your career as an athlete?"
Cheung then started crying and turned away from the camera, using her towel to try to stop media filming her.
The same interview has also been shared here on YouTube where the reporter's question can be heard clearly from the 19-second mark.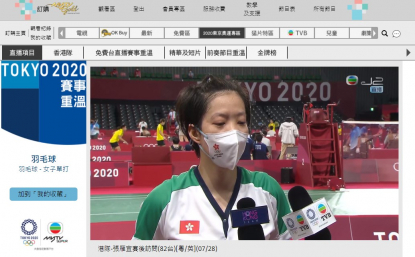 A screenshot, taken on August 2, 2021, of the TVB replay. ( AFP)
Cheung herself said the posts attacking the TVB reporter were misleading.
"The journalist did not ask such a question at that time. It is a misunderstanding," she told AFP.
The same misleading claim was debunked by Hong Kong news outlet HK01 and Hong Kong fact-checking organisation Kauyim.