False posts claiming Pakistan beat Israel in karate match at the Tokyo Olympics misuse old video
A video has been viewed hundreds of thousands of times in Facebook posts that claim it shows a Pakistani athlete defeating his Israeli opponent in a karate match at the Tokyo Olympics on July 25. The claim is false: the video predates the Olympics. It has circulated online since May 2021 in posts about a karate match between Russia and Montenegro.
"Pakistan stuns Israel in Tokyo Olympics yesterday," reads the caption to this video shared on Facebook on July 26.
The video has been viewed more than 270,000 times since.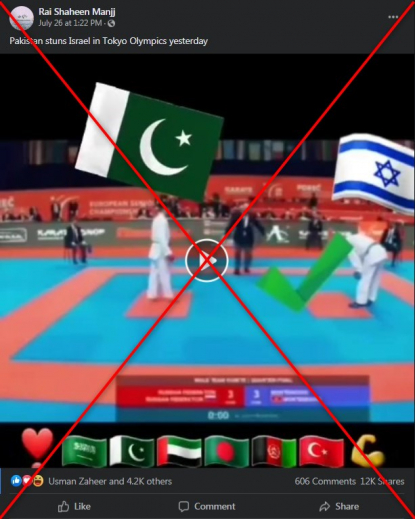 A screenshot taken on August 3, 2021 of the misleading Facebook post
An identical video was also shared alongside a similar claim on Facebook here, here and here.
However, the claim is false.
Keyword searches online found the video corresponds to this portion of a longer video posted on YouTube by the World Karate Federation on May 22 -- two months before the Tokyo Olympics began on July 23.
"European Karate Championships," reads the YouTube video's title.
Text overlaid on the YouTube video states it shows a match between athletes from the Russian Federation and Montenegro.
Below is a screenshot comparison of the video in the misleading posts (L) and the YouTube video (R):
Pakistan and Israel did not play any karate match on July 25 at the Tokyo Olympics, according to schedules here and here on the official website of the Games.