Bangladesh religious procession image shared in false posts about Indian political rally
A photo has been shared hundreds of times in multiple social media posts that claim it shows a large rally for an Indian Muslim politician during the pandemic. The claim is false: the photo shows an Islamic procession in Bangladesh in 2019.
The image was shared in a Hindi-language tweet posted on July 19.
The caption translates to English as: "Huge crowd of a specific community gathered in UP's Moradabad in Asaduddin Owaisi's rally and here we are, entangled over BJP, BSP and SP. You people too should stop being in any delusion and think about your future".
"UP" refers to India's most populous state, Uttar Pradesh.
Asaduddin Owaisi is leader of the All India Majlis-e-Ittehadul Muslimeen (AIMIM) party and member of parliament for Hyderabad in India's southern Telangana state.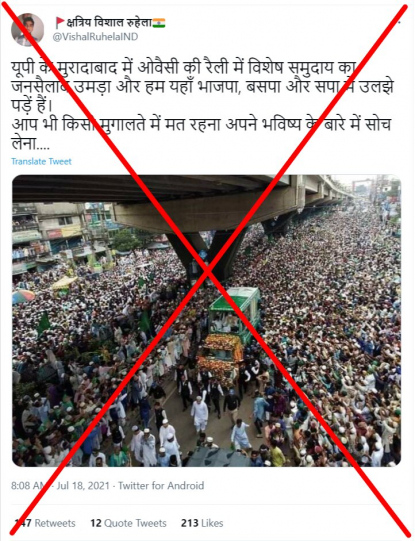 A screenshot of the misleading post taken on July 25, 2021
The post emerged online after speculation about the AIMIM teaming up with other parties in a bid to defeat the ruling BJP in Uttar Pradesh's upcoming assembly elections in February 2022.
The post also misleadingly suggests India's Muslims are permitted to gather for certain political events, while Hindus have been banned from gathering for religious festivals.
The photo was posted with a similar claim here, here, and here on Facebook.
However, the claim is false.
A reverse image search on Google found the photo was published in this Facebook post on November 26, 2019.
It was uploaded by photographer Faisal bin Latif in a post about a religious procession in the Bangladeshi city of Chattogram.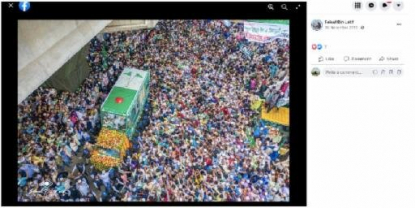 A photo of the event shared by Faisal bin Latif on 26 November, 2019
He also uploaded an album of photos showing the same event on photo-sharing website Flickr.
The album's title reads: "Jashney Julus, Miladunnabi, November 2019."
AFP found a similar video here on a Bengali-language YouTube channel showing a scene that corresponds with the image in the misleading posts.
The video's title states that it shows the Miladun Nabi procession in Chattogram in November 2019.
Miladun Nabi is an Islamic festival observed by Muslims as Prophet Mohammed's birthday according to the Islamic calendar.
In 2019, the festival was celebrated on November 10 in Bangladesh.
Below is a screenshot comparison of the photo in the misleading post (L) and YouTube video's one-minute 17-second mark (R):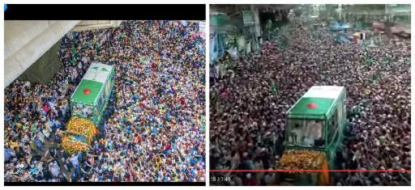 Comparison of the photo in the misleading post (L) and YouTube video
The same procession was also reported by Bengali news website Banglanews24.com on November 10, 2019.
AFP found a similar structure pictured in the news story (L) with the YouTube video (R):
Similarity between the image in the news story (L) with the YouTube video (R) snapshot
AFP previously debunked posts sharing the same photo alongside a claim they showed the funeral procession of photojournalist Danish Siddiqui, who was killed while covering fighting between Afghan security forces and the Taliban.