Posts mislead on proportion of vaccinated Covid-19 victims in Australian state's hospitals
Multiple social media posts shared in July 2021 claim that all Covid-19 patients being treated in hospitals in the Australian state of New South Wales had been vaccinated. The claim is misleading: as of July 26, all of the hospitalised Covid-19 patients were unvaccinated except for one, the state's health authority told AFP.
The misleading claim was published in this Instagram post on July 25, 2021.
It reads: "Vaccinated getting Covid??! Out of these Covid cases ALL ARE FULLY VACCINATED (two doses) EXCEPT ONE WHO ONLY HAD ONE DOSE. Why are the vaccinated getting Covid and the unvaccinated are not?! WAKE UP".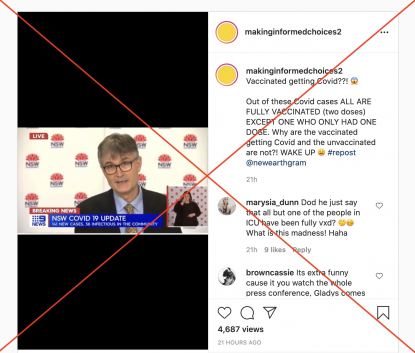 A screenshot of the misleading post as of July 26, 2021.
The post circulated online following an announcement on July 25 that there were 141 patients being treated for Covid-19 in hospitals in New South Wales, including 43 people in intensive care.
The video in the post features a portion of a press conference with Dr Jeremy McAnulty, an official at NSW Health, giving details on new Covid-19 cases.
Other instances of the claim appear on Instagram here, here and here.
A similar claim appeared here on Facebook.
The claim is misleading.
A spokesperson for NSW Health told AFP on July 26 that the claims were "incorrect."
"All [patients in hospital] were unvaccinated save for one," the spokesperson said.
The misleading claim circulated online after McAnulty misspoke in a press conference broadcast here live by ABC on July 25.
At around the six-minute mark, he said: "141 people are in hospital with Covid at present, and 43 are in intensive care, 18 of whom require ventilation ... all but one person are vaccinated, one person has received one dose of vaccine."
When asked to clarify his remark, McAnulty acknowledged that he had misspoken.
At around the 34-minute mark, he clarified: "Of the 43 patients in intensive care units, 42 have not been vaccinated. One person had a single dose of a Covid-19 vaccine."