Covid-19 vaccines protect both individuals and society from deadly disease
Facebook posts dismiss the personal benefit of receiving a Covid-19 vaccine, saying it is aimed at protecting those who have already received their shots. But experts say unvaccinated people are at the highest risk of contracting and dying from Covid-19, and immunization campaigns seek to protect these individuals as well as society as a whole.
"Remember to get vaccinated or a vaccinated person might get sick from the virus they got vaccinated against because you're not vaccinated," says a July 10, 2021 Facebook post on The Colorado Herald's account.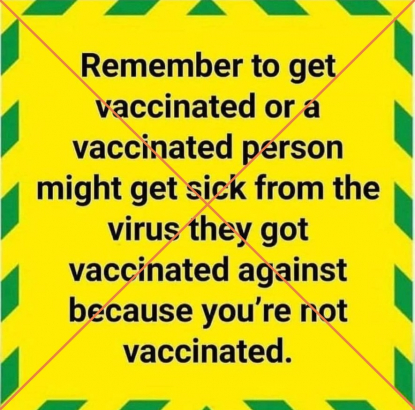 Screenshot of a Facebook post taken July 12, 2021
The same claim can be found on Facebook here and here, Instagram here and here and Twitter here and here.
The US immunization drive against Covid-19 has administered more than 335 million doses, but misinformation about vaccines continues to spread, leaving some reluctant to receive their jabs, even though virtually all US deaths from the disease are among the unvaccinated.
"Vaccinations are being encouraged for two reasons: 1. To protect the individual; vaccines markedly reduce the risk of severe illness or death in the person getting the vaccine. 2. To protect the rest of society," Dr Otto Yang, professor of medicine in the infectious diseases division at the David Geffen School of Medicine at UCLA, said on July 14.
"With increasing variants, more people are getting infected but the people dying are almost exclusively unvaccinated or those with weak immune systems where the vaccine doesn't work," he said.
One reason US cases have gone back up is the highly infectious Delta variant of SARS-CoV-2, the virus which causes Covid-19.
Dr Stuart Ray, vice chair of medicine for data integrity and analytics and professor in the Division of Infectious Diseases at Johns Hopkins Medicine, said on July 14 that "the ongoing pandemic is fueled by unvaccinated people," with about 99 percent of US Covid-19 deaths occurring among adults who have yet to receive a shot.
Vaccination campaigns are designed to protect people and "personal protection is, of course, a primary consideration," said Ray, adding that "public health authorities in general are also strongly motivated to eliminate major pathogens as a threat to public health. These are not competing motivations."
Ray cautioned that "each person varies in his or her ability to respond to vaccines, and people with severely compromised immune systems are most susceptible."
According to Johns Hopkins Medicine, those living with chronic medical conditions and who do not receive a vaccine "are more likely to experience severe -- even fatal -- cases of Covid-19 if they catch it."
The US Center for Disease Control and Prevention says that Covid-19 vaccines "can keep you from getting and spreading the virus" and may also protect people around you, particularly the most vulnerable.
"Covid-19 is still a threat to people who are unvaccinated. Some people who get Covid-19 can become severely ill, which could result in hospitalization, and some people have ongoing health problems several weeks or even longer after getting infected," it says.
The shots most widely used in the United States against Covid-19 showed an efficacy of around 95 percent in human trials, and real-world testing on health care and other frontline workers confirmed the vaccines using mRNA technology are highly beneficial.
AFP Fact Check has debunked numerous false claims related to Covid-19.