Satirical tale of 'Muslim man broadcasting BTS song from Indian mosque' misleads online
Multiple Facebook and Instagram posts shared in June 2021 claim a Muslim man was arrested in India after he accidentally broadcast a song by K-pop boy band BTS from a mosque. The claim is misleading: the story of the alleged incident was originally shared by a satirical Instagram account. A spokesman for the mosque in the Indian state of Uttar Pradesh told AFP there had been no such incident.

The claim was shared here on Facebook on June 30, 2021.
The post shows an image of a mosque alongside a headline that reads: "Muslim BTS fan accidentally plays the song 'Dynamite' instead of Azaan on loudspeakers at 4 AM; gets arrested."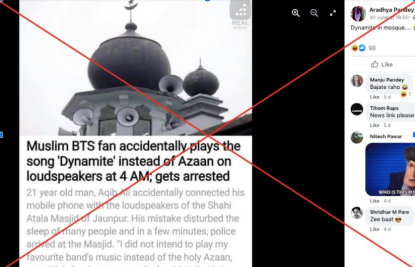 A screenshot of the misleading Facebook post, taken on July 6, 2021.
The purported article reads: "21 year old man (sic), Aqib Ali accidentally connected his mobile phone with the loudspeakers of Shahi Atala Masjid of Jaunpur. His mistake disturbed the sleep of many people and in a few minutes, police arrived at the masjid.
"I did not intend to play my favourite band's music instead of the holy Azaan, may Allah forgive me someday," said Aqib. He is currently set free and was fined INR 3000."
K-pop megaband BTS released the song Dynamite in August 2020. The music video has received more than one billion views on YouTube.
Azaan or Adhan is a Muslim call to prayer recited from the mosques.
Shahi Atala Masjid is a mosque located in the north Indian city of Jaunpur.
The purported screenshot was also shared alongside a similar claim here and here on Facebook, and here on Instagram.
The claim, however, is misleading.
The story was originally shared on this Instagram page called 'Realinshots'. It regularly publishes satirical news.
Below is a screenshot of the original post captured before it was taken down from the Real Inshots page:
Below is a screenshot of the Real Inshots Instagram account, which has also been taken down: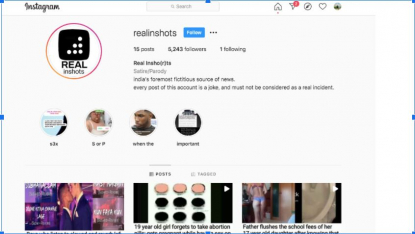 Before it was taken down, the description for the page read: "India's foremost fictitious source of news. Every post of this account is a joke and must not be considered as a real incident."
Real Inshots also posted a disclaimer alongside their post which reads: "Note: This post is very close to become viral and we just want to say that this is completely not a real incident. We are not responsible if someone interprets this as otherwise or gets their sentiments hurt. Thousands of people still think that this is real."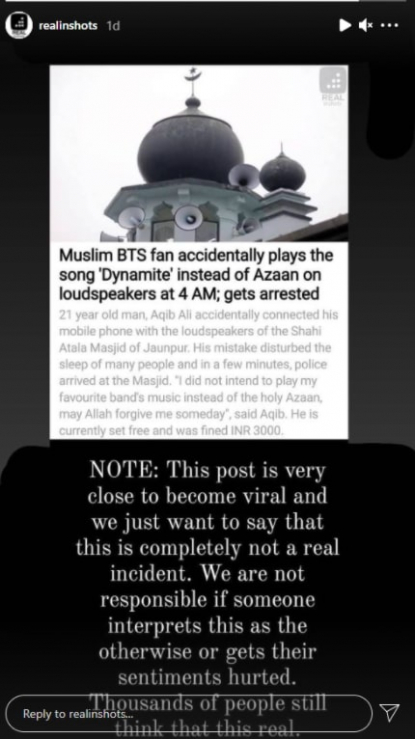 A spokesman for the Shahi Atala Masjid told AFP on July 6, 2021 that "no such incident has ever taken place inside the mosque".