Misleading posts distort health minister's remarks about Covid-19 deaths in Australia
A video has been shared in multiple social media posts that claim Australia's Federal Health Minister Greg Hunt announced in June 2021 no one infected with Covid-19 has died. The posts are misleading: the video shows Hunt commenting on Covid-19 deaths in Australia between January and July 2021.
The claim was shared in an Instagram post published here on June 25, 2021.
The post's caption states in part: "There have been no people that have caught [COVID] and passed away."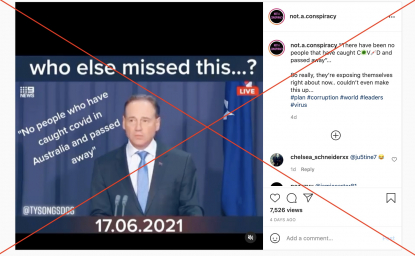 The post purports to show remarks made by Australian health minister Greg Hunt.
Australia has recorded more than 30,000 Covid-19 cases and 910 deaths since the beginning of the pandemic.
The highly contagious Delta variant, which originated in India, has sent major Australian cities into lockdown, as public frustration grows about the slow pace of vaccinations.
An identical claim was also shared on Facebook and on TikTok.
However, these posts are misleading. Hunt's actual remarks have been misrepresented.
His full statement can be viewed from the 30-second mark of this ABC News live stream of a press conference on June 17, 2021.
In reality, he said: "This year, for example, whilst the world has agonisingly lost over two million souls to Covid, there have been no people who have caught Covid in Australia and passed away."
A transcript of his comments was published here on the Australian government's website.
Between January 1, 2021 and July 1, 2021, Australia recorded one Covid-19 death, according to a World Health Organization tally.
Officials said the sole fatality was a returning traveler who became infected with Covid-19 outside Australia.
"He transited through Papua New Guinea but I'm sure he acquired the infection in the Philippines," according to Dr Jeannete Young, chief health officer of Queensland state, in this video report by ABC News on April 13.
As of July 2, 2021, more than 3.9 million people have died from Covid-19 globally, according to the WHO.