This graphic has been doctored to include a fabricated quote from Leni Robredo
An image has been shared repeatedly in multiple Facebook posts which purport to show a genuine quote by Philippine Vice President Leni Robredo about coronavirus quarantine periods in a local news broadcaster's graphic. The claim is false; the graphic has been manipulated to include a fabricated quote, the Philippine broadcaster said; there is no public record of Robredo making the statement quoted in the posts.
The graphic was published here on Facebook on July 7, 2020. It has been shared more than 170 times.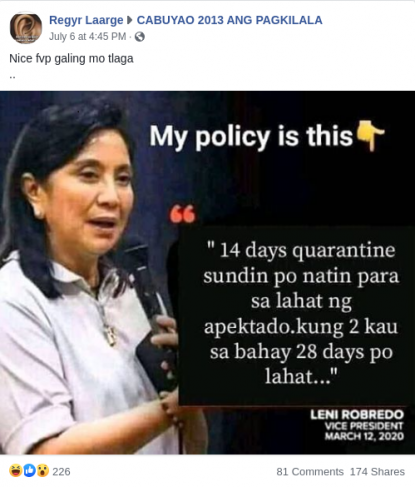 A screenshot of the misleading Facebook post taken on July 17, 2020
The Tagalog-language text overlay in the graphic translates to English as: "My policy is this / All affected should follow a 14-day quarantine period. If there's 2 of you at home that's a total of 28 days... / Leni Robredo / Vice President / March 12, 2020".
The post's caption reads: "Nice fvp you are really brilliant".
"fvp" is an acronym for "fake vice president", a pejorative often used to describe Robredo after former senator Ferdinand Marcos filed a legal contest after his defeat to Robredo in the 2016 vice presidential elections.
The Philippine health department orders a 14-day home quarantine for all who "exhibit fever or any symptom of lower respiratory illness, and has a history of travel to other countries with a confirmed case of COVID-19 but without any history of exposure", according to guidelines published in late February 2020.
Philippine police have since been deployed to ensure people who test positive for the coronavirus and cannot self-isolate at home are taken to state-run quarantine centres, sparking warnings of potential rights violations, according to this AFP report.
The same graphic was also shared here, here and here on Facebook with a similar claim.  
The claim, however, is false. 
In response to the claim, News5's social media manager Agatha Sayurin told AFP via Facebook Messenger on July 16, 2020: "The quote card… is not ours."
"Our organisation's logo has been removed and it looks like it has been edited poorly given the grammatical errors and bad image quality."
A combined reverse image and keyword search found the original graphic published here on News5's Facebook page on March 12, 2020.
A screenshot of the original News5 graphic taken on July 17, 2020
The graphic quotes Robredo as saying, in Tagalog: "Every bottle of alcohol that we hoard and don't use is one bottle that we deny our neighbors. In the end, if they get sick, all of us would be affected, no matter how much things or food we've hoarded. / Leni Robredo / Vice President / March 12, 2020".
Below is a screenshot comparison of the graphic in the misleading posts (L) and the genuine News5 graphic (R):
Screenshot comparison
The quote in the original News5 graphic matches part of the transcript of Robredo's statement published here on the Liberal Party of the Philippines website, where she presides as chairperson. Her speech does not make reference to a 28-day home quarantine period.  
Guidelines published by Philippine health department in April 2020 for "families with member/s on home quarantine or self-isolation" says: "should a household member develop symptoms late in the 14-day household isolation period, isolation period need not be extended but the person with new symptoms has to stay at home for 7 days".