Facebook posts share false claim about South Korea's guide on healthy blood pressure level
A claim has been shared repeatedly on Facebook in March 2021 that South Korea is the only country that recommends a healthy blood pressure level that is lower than that endorsed by the World Health Organization (WHO). The claim is false: South Korea and the WHO recommend the same healthy blood pressure level, which is also recommended by several other international health authorities.
The claim was published here on Facebook on March 10, 2021.
"The normal blood pressure range is 140/100 mmHg, recommended by WHO. Only South Korea recommends 120/80…. to boost sales of [high blood pressure] drugs," the Korean-language post reads.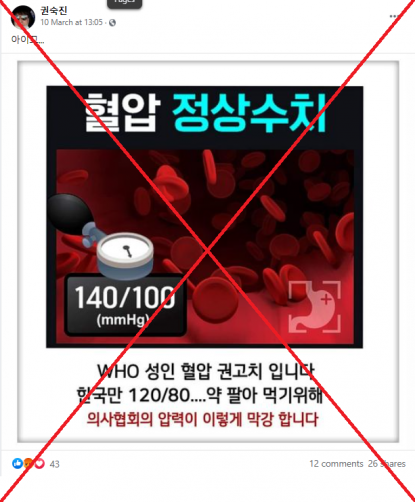 Screenshot of the misleading Facebook post, taken on March 22, 2021.
The Korea Disease Control and Prevention Agency does cites 120/80 mmHg as the normal level for blood pressure, as seen here.
Identical claims were also shared on Facebook here and here.
However, the claim is false.
Just like South Korea, the WHO recommends 120/80 mmHg as a healthy blood pressure level.
"Normal adult blood pressure is defined as a blood pressure of 120 mm Hg1 when the heart beats (systolic) and a blood pressure of 80 mm Hg when the heart relaxes (diastolic)," the WHO states here.
Several other international health authorities also endorse less than 120/80 mmHg as a normal blood pressure level.
For instance, the US Centers for Disease Control and Prevention notes the level here and Hong Kong's Department of Health makes the recommendation here.
Britain's National Health Service also states here that the "ideal blood pressure is usually considered to be between 90/60mmHg and 120/80mmHg."