Ethiopia has not approved traditional medicine to treat COVID-19
An article shared hundreds of times on Facebook claims that the Ethiopian government has approved a traditional medicine treatment for COVID-19 after successful clinical trials on animals and humans. However, the Ministry of Health denied the claims and Capital Ethiopia, which published the story, has corrected its Facebook post.
The article was published on March 27, 2020 on the website of Capital Ethiopia, an English-language financial newspaper.
The article's headline reads: "Ethiopia announced that it found traditional medicine for Covid 19". Capital Ethiopa's Facebook post linking to the article was shared more than 260 times.
Screenshot of misleading Facebook post, taken March 28, 2020
The article was quickly picked up by Facebook users, and shared in groups with more than 500,000 followers, including here and here.
It was also shared in Somali with the same caption here.
The short article claims: "Ministry of Innovation and Technology, Ministry of Health and traditional medicinal practitioners announced that they have approved a traditional medicine that was tested on humans and animals since the covid 19 outbreak was in December 2019 (sic)."
According to the article, Abraham Belay, Minister of Innovation and Technology, told the newspaper via text that "the country traditional medicine experts developed the medication for the virus".
However, the article is misleading, as the Ministry of Health has only announced the beginning of a research study concerning the impact of traditional medicine in the fight against COVID-19.
Shortly after posting the article on Facebook, Capital Ethiopia published a new post, clarifying that "tests will soon begin on animals and humans".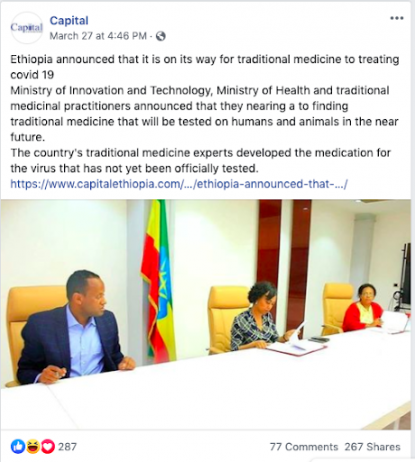 Screenshot of updated Facebook post, taken March 24, 2020
Ethiopia's Health Minister Lia Tadesse said on Twitter on March 27 that experts had completed a "first phase" of research involving traditional medicine to treat COVID-19.
Senait Fisseha, chief advisor to the World Health Organization's director-general, tweeted shortly after the publication of Capital Ethiopia's article, explaining that the Ministry of Health was announcing "the start of a research study". She stressed that "there is no cure for COVID-19 and that prevention" remains the most effective step towards slowing down the pandemic.
I checked with @FMoHealth. They said they were just announcing the start of a research study on the impact of traditional medicines on COVID19.

There is no known cure for #COVId19 & #prevention remain the most important step we can take to slow down tje spread of this pandemic https://t.co/SoUDtdEOhY

— Professor Senait Fisseha (@DrSenait) March 27, 2020
Contacted by AFP, Tagu Zergaw, spokesman of the Ministry of Health, told AFP that the study is in fact in its initial stage, and that "no testing on humans have been made".
AFP also contacted the minister of innovation and technology, who declined to comment.