Doctor with expired license falsely claims masks don't work
A YouTube video and social media posts claim a man blowing vape smoke through various face masks shows that they do not help prevent the spread of coronavirus. This is false; experts agree that while the virus itself is small enough to fit through mask fibers -- as is vape smoke -- masks do help stop the much-larger respiratory droplets that carry potentially infectious particles, and multiple studies have indicated that masks reduce transmission of the virus causing Covid-19.
"Doctor uses Vape Aerosols to show just how much masks don't work," the title of the September 6, 2020 video reads.
The man in the video inhales and exhales through two different surgical masks, a cupped mask, a cloth mask, a mask with filter material and a respirator with a valve.
"There is absolutely nothing that any of these masks do to protect you from me," he says. The nearly three-minute clip has more than 89,000 views.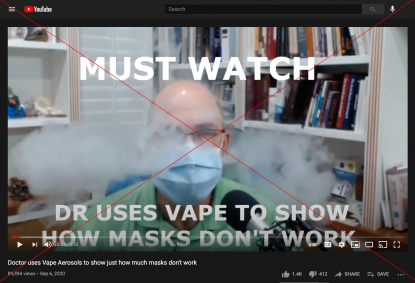 Screenshot taken February 5, 2021 of a YouTube video
Videos of the demonstration were posted on Facebook here, and as recently as February 1, 2021 here. They identify the speaker as Ted Noel, a doctor, and this tweet further labels him as "an anesthesiologist with 36 years experience."
An online search for "Ted Noel anesthesiologist" yields entries for Dr Theodore Noel, an anesthesiology specialist in Florida's Orlando area, aged 68 -- which appears consistent with the approximate age of the man in the video. Noel's Facebook profile image and education details confirm the video shows the same man.
Screenshot of the "About" page of a Facebook profile, taken on February 5, 2021
A search using the Florida Department of Health's medical license verification tool shows that Noel's license expired in 2014.
AFP spoke with several experts to address the claim in the video.
Dr John O'Horo, associate professor of medicine and an infectious disease specialist at Mayo Clinic, said the conclusions the man in the video draws are "very, very questionable," and "what's being shown there isn't really representative of the way that masks offer protection for the wearer or for those around the wearer."
In a phone interview, O'Horo explained: "The idea that just seeing some particulates going through a mask negates their effectiveness is just a misunderstanding of how masks work. The masks do allow air and small particles to pass through. That's how we can still breathe with them on, but what they do is they take a lot of the energy out so it doesn't travel as far."
The upshot is that masks are effective but they are only one part of a layered protection approach and should be combined with social distancing, he said.
Christopher Sulmonte, project administrator at the Johns Hopkins Biocontainment Unit, made a similar point.
"You'll notice that those vapors… are being hindered -- when he breathes out, they're not going out as far, but also they're going backwards, which is exactly conceptually what we're trying to do with the masks," he said by telephone.
Sulmonte criticized the video for its attempt "to create an equivalency between how SARS-CoV-2 is spread through respiratory droplets to the movement of gaseous particles."
Respiratory droplets are much larger, and that is the main way Covid-19 is spread, he said, adding that while "there is still some concern with aerosol spread of the virus," masks still help, as demonstrated by the smoke moving sideways and backwards in the video, rather than forward.
Aerosols are microscopic droplets released by breathing, singing and talking.
Dr Shelley Payne, a molecular biosciences professor and head of the University of Texas at Austin's center for infectious disease, agreed via email that masks also help prevent aerosol transmission. "Much of the leakage of aerosols shown in the video is at the edges of the mask. There is less from the front of the mask, reducing exposure to a person you are facing and talking to."
The US Centers for Disease Control and Prevention website clarifies that "the epidemiology of SARS-CoV-2 indicates that most infections are spread through close contact, not airborne transmission."
Dr Sam Hogue, the interim head of the Texas A&M University Department of Primary Care and Population Health, said in an email: "Viruses are tiny and could easily pass through masks. However, the mucous environment in which they are embedded, not so much.
"I am disappointed that a licensed physician would use smoke as an equivalent comparison," said Hogue, although as noted above, Noel's license has expired.
Dr Jose-Luis Jimenez, a chemist and professor at the University of Colorado Boulder who specializes in aerosols, said in an email: "I consider that video disinformation because they clearly don't know what they are doing with that test."
The effectiveness of masks in limiting the potential spread of coronavirus has been extensively documented.
A study published in January 2021 found that "places and time periods where mask usage is required or widespread have shown substantially lower community transmission."
Another, updated in August 2020, concluded: "Societal norms and government policies supporting the wearing of masks by the public, as well as international travel controls, are independently associated with lower per-capita mortality from Covid-19."
As of this article's publication date, the CDC recommends people wear masks in any public setting where they will be around others. Masks are now required for public transportation within, into, or out of the US.
Both Sulmonte and O'Horo noted that masks with valves like one of those shown in the video are not recommended for use in health care settings, because they do not protect those around the wearer.
AFP Fact Check has debunked numerous false and misleading claims about face masks and Covid-19.
EDIT: The date of the YouTube video mentioned in this article was updated on February 6, 2021.