False 'Sri Lankan girl killed in washing machine' claim lifts details from child's death in France
False claims that a five-year-old girl in southern Sri Lanka died after she was locked inside a washing machine have circulated in Facebook posts and WhatsApp messages. But the posts used details from a story about a three-year-old boy who died in France in 2011, as well as photos of a four-year-old girl who died in Qatar in 2022. Local police in Sri Lanka told AFP they had not received any reports about a similar case of cruelty against a child.
"May you attain the supreme bliss of Nibbana (Nirvana), little one," reads the opening line of a Sinhala-language post shared on Facebook here on May 16, 2023.
It goes on to claim a five-and-a-half-year-old girl named Dilushika Leoni, who lived in the southern town of Weligama, died after she was stuffed into a washing machine.
"Because of a mischievous act in school, (Dilushika) was reprimanded at home. Usually, her mother would punish her by shutting her inside an almyrah (wardrobe).
"But this time her father, determined to escalate the punishment, stuffed her into the washing machine and switched it on. The machine ran for an hour while the mother played a jigsaw puzzle with her nine-year-old.
"When Dilushika was eventually taken out, she had turned blue and was unresponsive."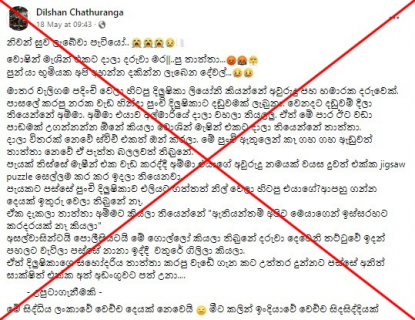 Screenshot of the false Facebook post, captured on May 24, 2023
The same false claim was shared hundreds of times in Facebook posts here and here.
Comments left by some users indicated they were misled by the posts.
"That man and woman could not have been the real parents of this child. Parents can never hurt their children like this," wrote one user.
Another wrote, "What are these incidents we hear of nowadays? Is it because the parents are under pressure due to the country's economic woes? What has made them react this way?"
But police in Weligama -- the town where the posts say the five-year-old lived -- told AFP there was no truth to the claim.
"No such incident of cruelty against a young child has been reported in Weligama," the officer in charge at the Weligama police station said in a phone call on May 23.
As of May 26, AFP found no reports of any incidents in Sri Lanka involving the death of a child who was put inside a washing machine.
Details copied from old case
The posts included details from an old court case in France that AFP reported on in 2015.
French father Christophe Champenois, then 36, was jailed for 30 years for murdering his three-year-old son Bastien in November 2011 after stuffing him in a washing machine and switching it on.
The child's mother, Charlene Cotte, then 29, told investigators she did a puzzle with her daughter, and Champenois used the internet while their son screamed inside the whirring machine.
Cotte was initially handed a 12-year jail sentence for "aiding and abetting murder and violence", but this was increased to 15 years on appeal, AFP reported in 2018.
Images of victim in Qatar
Two pictures were included at the bottom of the false posts: one showing a girl posing with a toy; and a framed photo of a smiling girl.
A reverse image search of the pictures used in the false posts led to an article titled, "Qatar government shuts kindergarten over 4-year-old Indian-origin girl's death, 3 arrested", which was published by the Indian news channel Asianet News on September 4, 2022 (archived link).
The article included a collage of photos of the girl, one of which matches a picture used in the false post.
The article says that staff at a kindergarten in Qatar were to blame for the death of the girl who was left on a school bus for four hours.
It says the girl "was found dead on her birthday inside her school bus on Sunday, September 11. According to reports, the four-year-old was left alone inside a locked school bus for over four hours. She died due to exposure to severe heat".
A further keyword search found the other picture used in the false post in another report about the same incident, published by the Indian news outlet The News Minute on September 12, 2022 (archived link).