Thailand's Move Forward Party leader hit with false claim he 'did not graduate from Harvard'
Thailand's Move Forward Party leader Pita Limjaroenrat graduated from Harvard according to the university, contrary to a false claim shared hundreds of times on social media. The posts circulated shortly after his progressive party shocked the kingdom's military-backed elite with a historic election breakthrough in May.
"Pita did not graduate from Harvard University, but from a school called Harvard Kennedy," reads part of a false Thai-language post published on Facebook on May 17, 2023.
It also incorrectly states that the Harvard Kennedy School (HKS) is not part of Harvard University.
The post circulated online after a member of Thailand's Palang Pracharath party -- which has close ties to the military junta that has ruled the kingdom since the 2014 coup -- suggested Pita might not have graduated from the prestigious American university, local media reported.
The Move Forward Party stunned observers by emerging as the largest party in elections in May, which saw a record turnout deliver a thumping defeat for army-linked parties.
Pita said on May 22 that he was confident of becoming prime minister but he faces an uphill battle because of opposition within the military-allied Senate to reform royal insult laws, AFP reported.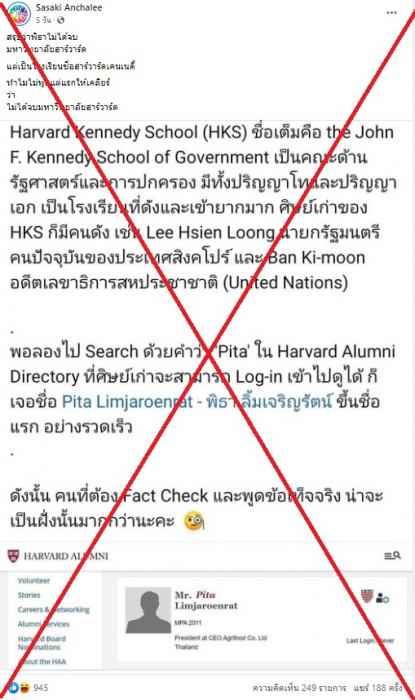 Screenshot of the false post, captured on May 22, 2023
A similar false claim about Pita's education was also shared more than 300 times on Facebook here, here and here.
Comments from some users suggested they believed the false posts.
"This person is just all fake," read one comment.
Another person said: "Did he ever claim to have a degree from Harvard in the election campaign, if so, he could be punished for fraud."
In response to the false posts, Jim Meehan, registrar coordinator at the Harvard Kennedy School, told AFP on May 19: "The HKS Registrar's Office confirms that Pita Limjaroenrat was enrolled as a full-time student in the Master in Public Administration program at the John F. Kennedy School of Government, Harvard University.
"He began his studies in September of 2008 and graduated with a Master in Public Administration degree on May 26, 2011."
Contrary to the claim shared on social media, HKS is one of 11 schools on Harvard's Cambridge Campus, according to the university's website (archived link).
Christian Ketels, a faculty member at the Harvard Business School, separately told AFP on May 20: "Pita Limjaroenrat took the Microeconomics of Competitiveness class at Harvard Business School in 2011. The course was cross-registered at both HBS and the Harvard Kennedy School.
"Mr Limjaroenrat joined the course as a student from the Kennedy School. He was part of a team that studied the Thai automotive industry."
A report about the Thai automotive industry co-authored by Pita was published here on the Harvard Business School website (archived link).
AFP has previously debunked misinformation that has circulated during the 2023 Thai election here and here.