Lung X-ray image doctored to add cockroach in hoax posts about 'medical blunder'
A doctored X-ray image has been repeatedly shared by Facebook users in Myanmar alongside the claim a patient was told they had inhaled a live cockroach but was informed by a doctor in Singapore that it was actually inside the X-ray machine in their home country. However, the image has been manipulated to insert the cockroach, and a similar hoax has circulated online since at least 2012.
The image was shared here on Facebook by an account with 3,400 followers on February 8, 2022.
It appears to show a chest X-ray with a silhouette of a large cockroach in the bottom right-hand corner.
The Burmese-language text above the image translates to English as: "The doctor looked at the X-ray results and told the patient: "You have a live cockroach in your lungs. You will need to go abroad for surgery". Then the patient went to Singapore for surgery."
The post went on to claim that the patient was told by staff at a Singaporean hospital that the cockroach was "not in his chest but inside the X-ray machine".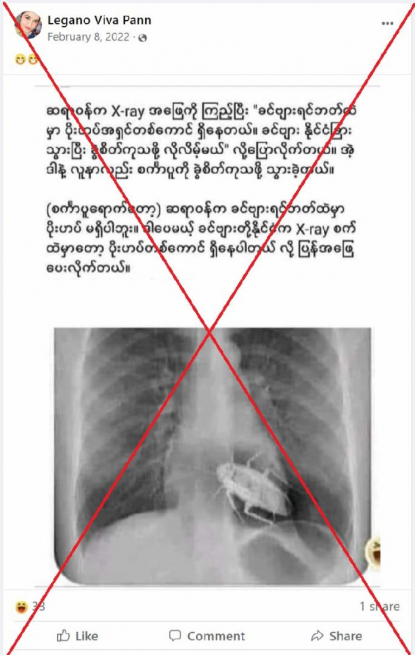 A screenshot of the false claim, taken on May 22, 2023
Breathing in foreign objects -- known as aspiration -- is a fairly common and potentially life-threatening occurrence in children, with most cases reported in those aged three and younger (archived links here and here).
While aspiration is less common in adults, an Australian man in 2018 had a cockroach extracted from his lungs after complaining of a "crawling sensation" (archived here).
However, the X-ray image has been manipulated to add the cockroach. It was also shared in multiple Burmese-language Facebook posts alongside a similar false claim in 2019; 2020; 2021; and 2022.
Some users left comments that suggested they believed the claim was true.
"Thanks to the X-ray machine that sent you to Singapore," one wrote.
Another appeared to believe the anecdote in the posts was from Myanmar, commenting: "This shows how Myanmar doctors work carelessly."
But the image has been doctored and the claim is an old hoax that has circulated since 2012.
Old hoax
A Google reverse image search found the original photo uploaded to Wikimedia Commons by Swedish doctor Mikael Häggström, dated June 28, 2017 (archived here).
There is no cockroach seen in the X-ray image.
The description reads: "Posteroanterior chest radiograph ("X-ray") taken of a 21-year-old woman who presented with pain on the left side of her thorax after colliding with another player during a soccer game. It shows a normal chest without any signs of injury."
Below is a screenshot comparison of the image in the false post (left) and the Wikimedia Commons photo (right):
The picture with no cockroach was also published by the US-based photo agency Shutterstock with the caption "Normal Posterio Anterior PA Chest X-ray" (archived here).
Earlier this month, AFP debunked a similar hoax about a man in Kenya that included a different X-ray image.
Further keyword searches found the claim about a man seeking treatment in Singapore for inhaling a cockroach is an old hoax, with various versions circulating since 2012, fact-checking site Snopes reported (archived here).
A 2017 version referred to a hospital in Zimbabwe and added a cockroach to an image of a 1954 X-ray of actress Marilyn Monroe (archived here).
Meanwhile, a 2012 Facebook post that did not include an image recounted a similar story but suggested the incident happened in Ghana.