Edited video of Filipino doctor shared in posts about unregistered scar treatment serum
Facebook pages promoting a cosmetic serum falsely claim it was endorsed by a well-known Filipino doctor. But the posts led to imposter websites that mimicked the online store for the doctor's clinic chain, and the doctor herself has issued warnings against using it since 2021. AFP found no evidence that the product -- which has not been registered with the Philippines' drug regulator -- has been proven to help heal scars or treat other skin conditions.
The edited video was posted on Facebook on April 18, 2023, by a page called "Belo Time Capsule".
The clip -- viewed more than 13,000 times -- appears to show Filipino cosmetic physician Vicki Belo talking about a product that is "great for pimples, great for pores, getting rid of your oiliness and it's also reasonably priced" (archived link).
An image of the product labelled "Time Capsule Pro Advanced Scar Treatment" is superimposed on the clip, followed by more footage of the scar serum.
The accompanying Tagalog-language caption translates to English in part as: "Effective in getting rid of acne or scars, smoothens and whitens.
"Thank you Dr Belo for this product of yours. Beware of fakes. Only buy original ones which can be found on this link below."
The link led to an imposter website that mimicked the online shop for Belo Medical Group, a chain of aesthetic clinics founded by Dr Belo.
The fake site advertised the product for sale for almost 1,000 pesos ($17).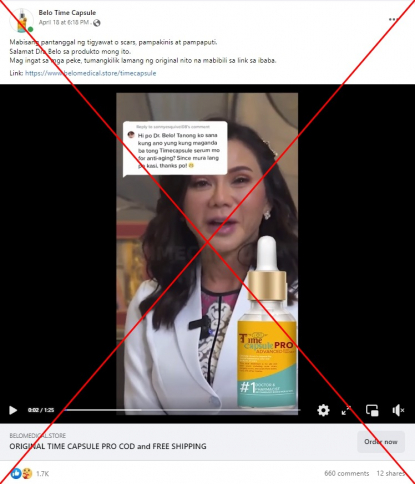 Screenshot of false post taken on May 16, 2023
Similar Facebook posts here, here and here also promoted the scar serum as Dr Belo's product.
Social media users appeared to believe the product was genuine.
"How much is this, Dr Belo?" one wrote.
"I already ordered!" another said.
However, Dr Belo and the Belo Medical Group have no connection to the Time Capsule product, which has also not been registered with the Philippine Food and Drug Administration (archived link).
'No affiliation'
"Please be advised that Belo Medical Group and Dr Vicki Belo have no affiliation with the 'Time Capsule' skin serum product", a company representative told AFP on May 10.
The serum has not been advertised for sale on the cosmetic company's official online stores (archived links here and here).
However, they did feature a similarly named "Time Capsule" treatment (archived link). The company representative explained it was "a procedure that combines several treatments for acne scars and stretch marks available in all Belo clinics".
The treatment was advertised as a service that starts at 42,480 pesos ($750) per session.
AFP found the company has issued advisories on its official social media pages about fake advertisements for the Time Capsule serum and other cosmetic products since 2021 (archived link).
In a video from April 2021, Dr Belo said: "I'm here to warn you again about purchasing products that are using my face, my words, editing my videos to promote their lousy, fake, do-nothing products...Don't buy them" (archived link).
Keyword searches found the false Facebook video had been edited from this clip posted on Belo's official YouTube channel on May 5, 2022 (archived link).
In that video, Belo and her husband Dr Hayden Kho Jr discuss various cosmetic procedures offered in their clinics and ingredients that can be effective for ageing skin. They do not mention the Time Capsule serum.
Below is a screenshot comparison of the video in the false posts (left) and the original clip on YouTube (right):
AFP has previously debunked a similar fabricated product endorsement featuring Dr Belo here.