Old port fire video falsely shared as 'Israeli attack on Iran's military aid to Russia'
An old video of a smoking field of debris has been viewed hundreds of thousands of times in Chinese-language social media posts that falsely claim it shows Iranian military aid for Russia blown up by Israel in March 2023. But there is no evidence the event described in the posts actually occurred. The video was in fact shared by an Afghan official in the aftermath of a massive port fire in the country in February 2021.
The video has been viewed more than 125,000 times after it was shared on Weibo on March 20, 2023.
It shows people standing in a field of burnt rubble.
The post's caption, written in simplified Chinese characters, translates as: "According to reports, military aid from Iran to Russia was destroyed by Israel."
A screenshot of the false post taken on May 1, 2023
The video was also viewed over 90,000 times alongside a similar false claim in Chinese-language posts on Twitter and Gettr.
Iran has supplied attack drones and ammunition for tanks and artillery to Russian forces, despite warnings from G7 leaders against supporting Russia in its war against Ukraine (archived link).
However, there were no official reports that Israel launched attacks on Iranian aid convoys to Russia as of May 3, 2023.
Iran had accused Israel of attacking a military defence complex in the city of Isfahan in January 2023 but US intelligence officials believed the strike was prompted by Israel's own security concerns and not military exports to Russia, the New York Times reported (archived link).
During more than a decade of war in Syria, Israel has launched hundreds of air strikes on its territory, primarily targeting Iran-backed forces and Lebanese Hezbollah fighters as well as Syrian army positions.
Afghanistan port blaze
Moreover, a Google reverse search of keyframes found the video in the posts was previously shared by Afghanistan's former finance minister Dr Omar Zakhilwal on his verified Facebook account on February 14, 2021, a year before Russia launched its invasion of Ukraine (archived link).
Its Pashto-language caption translates as: "Huge losses to our national businessmen due to the fire (incident) at Islam Qala is a deeply regrettable disaster. In addition to other problems and insecurity in the country that the businessmen are suffering, such incidents can damage business activities at the national level.
"Hope the government will provide necessary assistance to the affected businessmen and shippers."
Below are screenshot comparisons of the video in the false posts (left) and the video published by Zakhilwal on Facebook (right):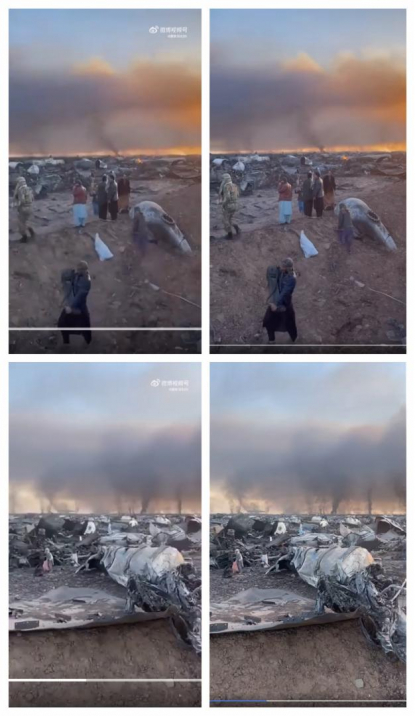 Screenshot comparison
Officials said at least 100 oil and gas tankers have been destroyed by the fire near Islam Qala port, Afghanistan's biggest trade crossing with Iran, causing millions of dollars of losses, AFP reported on February 14, 2021 (archived link).
Other videos showing the aftermath of the fire have been published here and here on AFP's website (archived links here and here).
AFP has debunked other false and misleading claims linked to Russia's invasion of Ukraine here.