Posts falsely claim only two media covered Malaysian PM's Saudi Arabia visit
Social media users have shared a false claim that Malaysian Prime Minister Anwar Ibrahim's official visit to Saudi Arabia in March 2023 was not accorded proper media coverage, with only two news outlets reporting on it. In fact, four Malaysian media organisations, which were part of the press pool travelling with Anwar, reported on his trip. At least two Saudi news outlets published reports of the Malaysian leader's visit on a daily basis.
A photo of Anwar and two ministers at a press conference, with two microphones circled in red, was shared in a Facebook post here on March 25, 2023.
"Only two microphones on the table during a press conference in Saudi Arabia?" the post's Malay-language caption says. "You said you are powerful, how can there be only two media covering you abroad?"
The post has been shared more than 190 times.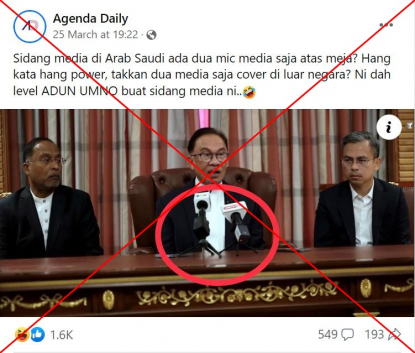 Screenshot of the misleading post, taken on April 18, 2023
The claim circulated days after Anwar arrived in Saudi Arabia for a three-day visit on March 22, 2023 (archive link).
Political opponents called Anwar's first trip to the Middle East kingdom as prime minister a failure because he did not meet Saudi King Salman and the Saudi prime minister, Crown Prince Mohammed bin Salman (archive link). Anwar's aide said they were unable to meet due to conflicting schedules.
A Facebook post with an identical claim about minimal media coverage appeared here.
The same photo also circulated alongside a similar claim in TikTok posts here, here, here and here, racking up more than 300 shares and over 136,000 views.
Some other posts, like on Facebook and on TikTok, said no Saudi media covered Anwar's visit.
However, the claims are false.
A Google reverse image search found the photo was taken by Malaysian state news agency Bernama during Anwar's press conference on March 25, 2023, his last day in Saudi Arabia.
Translated from Malay to English, the photo's caption reads: "Prime Minister Anwar Ibrahim at a press conference in conjunction with his official visit to Saudi Arabia. Also present were Foreign Minister Zambry Abd Kadir (left) and Communications and Digital Minister Fahmi Fadzil."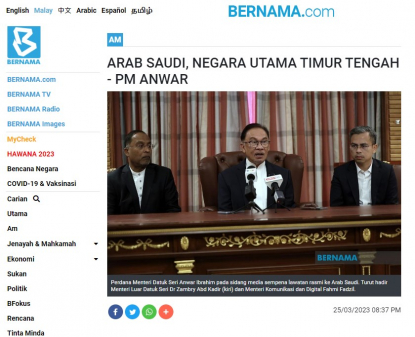 Screenshot of Bernama report, taken on April 20, 2023
The image was also published by Malaysian newspaper the New Straits Times in a report on the press conference, written by their journalist from Jeddah (archive link).
Anwar's press secretary Tunku Nashrul Tunku Abaidah said the press conference was limited to Malaysian media outlets that were part of the press pool. Among them were Bernama, the New Straits Times, public broadcaster RTM and television channel TV3.
"Only RTM and TV3 placed their microphones on the table for their television coverage while Bernama and the New Straits Times published articles on the Saudi official visit, hence there were only two microphones in the photo," he told AFP on April 17, 2023.
Footage from the press conference was aired by RTM here and TV3 here on March 25, 2023 (archive links here and here).
Anwar's three-day visit was also covered daily by Saudi media, such as the Saudi Press Agency (SPA) and Arab News, an English-language newspaper in the country -- contrary to the claim in some social media posts.
The SPA's coverage can be found here, here and here (archive links here, here and here).
The Arab News reports can be read here, here, here and here (archive links here, here, here and here).
Arab News also posted one of the reports on its Facebook page on March 23, 2023.