Doctors warn against steroid medication sold online as 'vitamins for weight gain'
Philippine doctors have warned against consuming a brand of pills labelled "dexamethasone" sold on Facebook as "vitamins for weight gain". While the prescription drug dexamethasone can cause weight gain as a side effect for patients who use it, it is not a vitamin and unsupervised use can cause health problems.
"Are you very thin? Without appetite? Or you eat a lot but you are still thin?" reads a Tagalog-language Facebook post shared on March 25.
"Try Pronicy Kalbe Vitamins, it's very effective,your weight will increase by 2 to 5 kilos in just two weeks. PM to order and for more details."
The post -- shared in a Facebook group with more than 3,500 members -- shows packets of pills labelled "dexamethasone".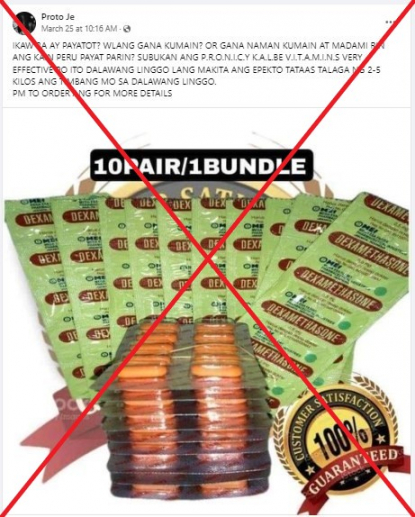 Screenshot of the false post taken on March 30, 2023.
The product was also promoted as vitamins for increasing weight in Facebook posts here, here, here and here.
Social media is awash with bogus and harmful medical posts in the Philippines, where citizens rank among the world's heaviest users.
Comments on the posts touting the pills suggest people believed the claim and were interested in buying them.
"How much is this because I want to gain weight?" one person commented.
"I got really thin, I would like to gain some weight, even just a little," another wrote.
Dexamethasone is a steroid drug that doctors prescribe for a range of health conditions from inflammation to autoimmune disorders.
Hospitals also use it as a treatment for severe cases of Covid-19 and to reduce the side effects of cancer treatment.
However, dexamethasone is not a vitamin and should not be taken without prescription, doctors say.
'Serious adverse reactions'
"It's not a vitamin. We do not prescribe it for weight gain. However, a known side effect of dexamethasone is water retention, hence it can cause weight gain," Dr Christine Gertrude Tan, an internist from the Philippine College of Physicians, told AFP on April 2.
"If this drug is used without the supervision of a doctor, it may cause immunosuppression or the weakening of the immune system."
General practitioner Dr Claudine Salinas-Casals said another side effect of dexamethasone was an increase in the cortisol hormone -- also known as the "stress hormone".
"Its increase can cause hyperglycemia or a sugar spike in one's body -- which will result in weight gain," she told AFP on April 3.
According to Salinas-Casals, patients who experience appetite problems can undergo laboratory tests to establish the cause.
"From there, they can also seek the help of a dietician for dietary advice," she added.
The Philippine Food and Drug Administration (FDA) warned the public against taking dexamethasone without a doctor's supervision in an advisory on June 19, 2020.
Unsupervised use of the drug may cause "serious adverse reactions" like gastrointestinal bleeding, osteoporosis, poor wound healing, obesity and suppression of growth among infants and children, the agency said.
It published a similar warning in 2016.
'Unfamiliar' product
While the product in the posts is labelled dexamethasone, Philippine registered pharmacist Marigold Quiles-Gojo Cruz said that the brand in the false posts looked "unfamiliar".
"Generally, even if it is really dexamethasone, people should not purchase prescription drugs from unknown sellers online. They should only buy from known and registered pharmacies," she told AFP on April 3.
"These pharmacies will ask for a doctor's prescription, even online."
Keyword searches found Pronicy Kalbe Dexamethasone is not listed in the FDA's registered drugs database as of April 3, 2023.
April 4, 2023 This article was amended to correct a grammatical error in the fifth line