Old video shows baggage handler stealing at airport in Thailand's Phuket, not Bangkok
As Thailand's tourism industry showed signs of recovery following the easing of Covid travel restrictions, footage of an airport baggage handler rummaging through suitcases surfaced in Facebook posts that falsely claimed it was filmed at Bangkok's Suvarnabhumi airport. In fact, the video shows a worker at Phuket International Airport rifling through bags in 2017. Local police confirmed he was charged and jailed for stealing a Bluetooth speaker.
"How could Suvarnabhumi airport allow thieves to work together as a gang? Help share quickly," reads a Thai-language Facebook post shared on March 17.
The video shows several baggage handlers loading suitcases onto a plane. One of them can be seen opening suitcases and rummaging inside.
Screenshot of a Facebook post sharing the false claim, captured on March 21, 2023
The video circulated alongside a similar false claim here and here as Thailand enjoyed a resurgence in tourists following the easing of pandemic border restrictions.
AFP reported in February that Thailand's economy expanded by 2.6 percent last year on the back of a tourism recovery and strong consumer confidence but an export slowdown dragged on growth, officials said.
While visitor numbers steadily increased to 11.2 million international arrivals in 2022, the number was a far cry from the 40 million recorded in 2019.
But the video in the false posts dates back to a theft case at Phuket International Airport in 2017, police told AFP.
Salan Santisatsanakul, a superintendent at Sakhu Police Station, which works to provide security at the airport, said the clip shows ground services employee Abdullah Hayemayeh, who was arrested for theft on October 11, 2017.
He said Hayemayeh was subsequently charged with theft and pled guilty in court. Following a hearing, he was sentenced to nine months in prison on November 19, 2017.
Phuket thief
A keyword search found an article about Hayemayeh's arrest by Thai newspaper Khaosod, which featured screenshots from the video circulating on social media, as shown below:
Screenshot of Khaosod's report on the baggage handler's arrest, taken on March 20, 2023
Thai investigative news site Isranews published a screenshot of Hayemyeh's arrest record, which says he was arrested on October 11, 2017 at Phuket airport for stealing a Bluetooth speaker.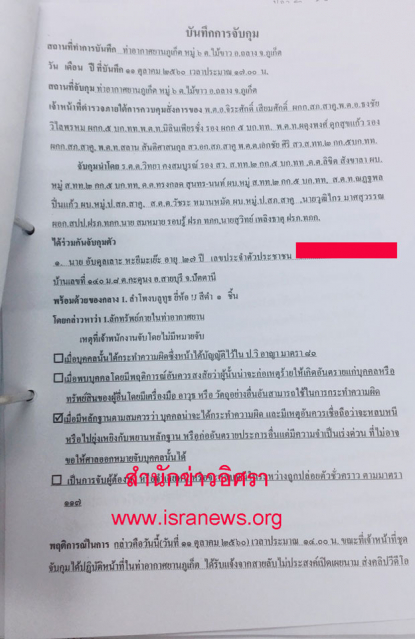 Screenshot of the arrest record published by Isranews, taken on March 21, 2023