Misleading posts target South Korean President Yoon with 'bowing to Japan flag' claim
Misleading posts criticising South Korean President Yoon Suk Yeol claim an image shows him bowing only to the Japanese flag during his meeting with Japan's Prime Minister Fumio Kishida in March 2023. The posts circulated as Tokyo and Seoul pledged renewed diplomacy following years of strained relations. Corresponding photos of the event actually show Yoon and Kishida bowing to both a Japanese flag and a Korean flag behind it.
The image, which appears to show Yoon and Kishida bowing before Japan's flag, was shared on Facebook on March 16, 2023.
Its Korean-language caption translates in part as, "Leaders are supposed to salute their own country's flag only, but [Yoon] couldn't help reciting 'Banzai charge' in his head."
"Banzai" is a Japanese term meaning "long live," which is used to call out a blessing to the emperor. The word was often chanted during the wartime in Japan but is now used in various situations, such as to say "hurrah" after a sports game.
Yoon and Kishida held a summit in Tokyo in March to thaw long-frozen ties, announcing the end of tit-for-tat trade measures and pledging renewed diplomacy.
The neighbours have for years been locked in a bitter dispute over Japan's use of wartime forced labour.
Relations deteriorated when South Korea's Supreme Court ordered Japanese firms to compensate victims of wartime forced labour in 2018.
Earlier in March, Yoon announced a plan to pay those affected without Tokyo's involvement.
Japan has stated that it will continue to support its historic apologies for wartime acts, but many in South Korea feel that falls short and oppose Yoon's compensation plan.
Screenshot of the misleading Facebook post taken March 20, 2023
Similar claims about the image have also been shared on Facebook here, here and here.
Social media comments suggest some users were misled by the posts.
"He [Yoon] seems to be so obsessed with Japan. He acts as if Japan is his own country. Why don't you just live there forever?" one wrote.
Another said: "I am so angry. I'm sure he [Yoon] is thinking that Japan is his home. Otherwise, why?"
Keyword searches found the image corresponds to a frame from a video report by South Korean broadcaster SBS on March 16, taken during an honour guard ceremony ahead of Yoon and Kishida's bilateral meeting on the same day.
The scene can be seen at the clip's four-minute 20-second mark.
However, while the angle of the camera obscures South Korea's flag, other photos from the same event show it positioned behind the Japanese flag.
An AFP photo taken from a different angle shows both leaders saluting the Japanese and Korean flags.
Below is a screenshot of AFP's photo of the event:
"South Korean President Yoon Suk Yeol (R) and Japanese Prime Minister Fumio Kishida (L) attend an honor guard ceremony ahead of their bilateral meeting at the Prime Minister's Office in Tokyo on 16 March 2023," reads the photo's caption.
Further Google keyword searches found South Korea's Yonhap News Agency published another photo that also shows both leaders saluting the flags from each country.
Below is a screenshot of the photo from Yonhap: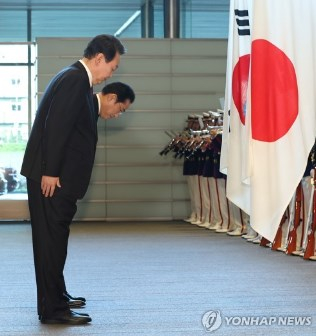 "President Yoon Suk Yeol, who paid a two-day visit to Japan, and Japanese Prime Minister Fumio Kishida are saluting the flags of both countries at an honour guard ceremony held at the prime minister's office on March 16, 2023," the photo's caption reads.