Posts share misleading claim about monthly e-cash assistance for Malaysians
Multiple social media posts share a misleading claim that all Malaysians are entitled for a monthly aid of 300 Malaysian ringgit ($67) in the form of electronic cash. The claim is based on clickbait blog posts. In fact, the Malaysian government has refuted the claim, saying there is no such financial aid. The blog posts actually mention a financial aid scheme for lower income residents in the Malaysia state of Selangor.
The claim was shared here on February 8, 2023 on a Facebook page with more than 9,100 followers.
The Malaysian-language caption translates: "AUTOMATIC RM300 E-CASH ASSISTANCE EVERY MONTH: THIS IS HOW TO REGISTER WITH PHONE" -- giving a link to a blog post explaining how to register for the purported 300 Malaysian ringgit ($67) financial aid.
The post also shares a graphic with the Malaysian coat of arms at the top right, with text: "RM300 E-CASH ASSISTANCE / REGISTER WITH PHONE".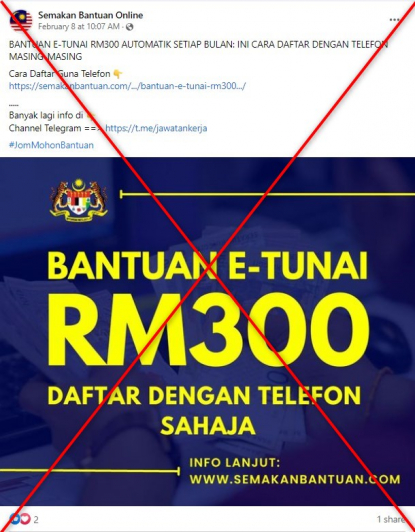 Screenshot of the misleading post, taken on February 28, 2023
The claim was also shared elsewhere on Facebook here, on TikTok here, on Telegram here and here.
However, the claim is misleading.
'Fake news'
On February 20, 2023, the Malaysian finance ministry has denied on their official Facebook page that there is such financial aid.
Translated to English, the post's caption reads: "Fake News! The Ministry of Finance (MOF) would like to emphasise that there is NO RM300 e-Cash assistance per month that went viral on Tiktok."
It includes the screengrab of a misleading post, with a red stamp that reads: "FAKE".
The same image was reposted by the Ministry of Communications and Digital on the same day.
Only in Selangor state
The misleading posts share links to blog articles about the purported cash assistance, such as this, this and this one.
Although all the headlines suggest that the aid is for everybody, the contents of the blog articles mention a financial aid scheme called "Bingkas," which is only available in the Malaysian state of Selangor.
It is an initiative introduced during the tabling of Selangor state's 2022 budget, which allows local residents who meet certain criteria to buy necessary goods up to 300 ringgit through an e-wallet app.
Part of the requirements for the Bingkas scheme include being a Malaysian citizen who was born in Selangor or has been a resident of the state over 10 years, having family with dependents aged 18 years old or younger, and having a household income of below 3,000 ringgit ($670) a month.
According to the Bingkas website, in the wake of the Covid-19 pandemic, the financial aid would be disbursed to 30,000 families in Selangor to help "ease the financial burden" and assist them "to buy basic necessities including educational equipment for students".
Beneficiaries can purchase from a list of 17 essential items such as rice, bread, cooking oil, school and education materials.