Twitter is not restricting Ukrainian flag emoji
A widely shared image claims to show a notice from Twitter informing users that only the platform's paid subscribers would be able to feature the Ukrainian flag emoji on their profiles. This is false; the supposed screenshot appears to be a digital fabrication, and Twitter has made no such policy announcement.
"Only Twitter Blue subscribers can visibly support Ukraine," says the text on what looks like an authentic message from Twitter telling users they "must remove" the Ukrainian flag emoji from their profiles by February 28, 2023 to avoid losing access to the social media site.
The text continues: "It'll take just a few minutes to remove it. Displaying this flag is considered a political statement against Russia, and as a neutral platform, we must moderate any political bias. Learn more about our new community guidelines."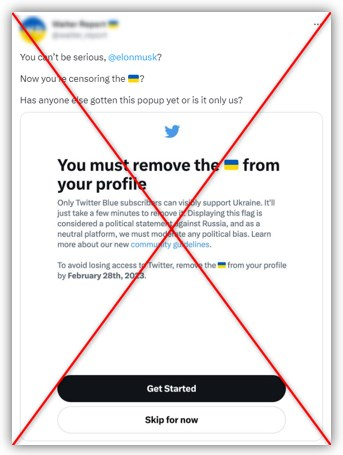 Screenshot from Twitter taken February 27, 2023
Posts sharing the image spread across Twitter, other platforms including Facebook and articles online in the days after the one-year anniversary of Russia's invasion of Ukraine. Twitter users have added the Ukrainian flag emoji and other symbols to their Twitter names and bios since the start of the conflict.
But the purported policy change is not authentic; the image appears to be a digital fabrication.
"We are not aware of any such notice or restriction," said Ella Irwin, Twitter's head of trust and safety, in an email to AFP. "Not sure where the user obtained this information from."
Twitter's rules say nothing about the Ukrainian flag emoji, nor did a company blog post from March 2022 -- before Elon Musk had initiated his acquisition of the site -- about its approach to the war.
The Twitter account that appears to have posted the image first -- a user whose Substack newsletter promises "a Ukrainian's perspective on the latest news of Russia's invasion of Ukraine" -- acknowledged in a follow-up tweet that it was a "meme," and not a real update.
"Twitter is NOT banning the (Ukrainian flag emoji)... yet," the account said. "The fact that it's so believable Musk would do this is serious though. Musk's actions and tweets speak louder than fake memes and have real consequences for Ukraine. A real threat to democracy is Musk echoing his far-right besties' russian propaganda."
Screenshot from Twitter taken February 27, 2023
The account shared the same clarifying tweet in response to several other users who appeared to believe Twitter was banning the Ukrainian flag emoji.
AFP sent the account an email and Twitter direct message, but no response was forthcoming.
Musk, Twitter's owner since October 2022, has been vocal with his opinions about the war in Ukraine and the country's use of his company SpaceX's Starlink internet service, at times drawing condemnation from Ukraine backers -- including Ukrainian President Volodymyr Zelensky, who spoke out after Musk floated a "peace plan" involving major Ukrainian concessions.
The misinformation comes as Twitter has rolled out numerous changes in recent months under Musk. The text in the fake notice borrowed language from a real update Twitter sent in February announcing plans to restrict access to text message-based dual-factor authentication, limiting such an option to users who purchased Twitter Blue, its subscription service.
Both verified and unverified users confirmed they had received no such warning about support for Ukraine.
Illia Ponomarenko, a defense reporter with the Kyiv Independent, told AFP he received no such notice from Twitter -- despite displaying the Ukrainian flag emoji on his profile.
"I never had any warnings of that kind from Twitter," Ponomarenko said in an email, adding that he is not a Twitter Blue subscriber. "This indeed looks fake to me."
Oxana Shevel, associate professor of political science at Tufts University and vice president of the American Association of Ukrainian Studies, also said that she never received the notice. Shevel has the Ukrainian flag emoji displayed as part of her Twitter name and twice in her Twitter bio.
More of AFP's reporting on misinformation about the Russia-Ukraine war can be found here.