Chinese social media users share edited Putin speech video with false subtitles about Ukraine
Chinese social media users have repeatedly shared a doctored clip of Russian President Vladimir Putin giving a speech with false subtitles that claim he said he will not step down from power until "the problem in Ukraine is settled". However, the video contains clips taken from two different addresses and audio from one of the speeches. The Chinese and English language subtitles are false translations of the speech. As of February 17, 2023, AFP has found no official reports about Putin making such an announcement.
The video has been viewed more than 500,000 times after it was shared in a Weibo post here on February 7, 2023.
The footage appears to show Putin giving a speech in two different venues, with subtitles in simplified Chinese and ungrammatical English.
The simplified Chinese caption and text over the top part of the video read: "Boss move. Russian President Putin gives a speech on whether he will step down in 2023."
"Lately there has been a lot of foreign media about me possibly stepping down as president in 2023. Ah... I would like to say, until the problem in Ukraine is settled I will not give up the position," the purported Chinese-language subtitles read.
The subtitles continue: "We are not just fighting against Ukraine, we are going up against the whole of NATO.
"Russia has been pushed to a breaking point, so we must fight. Victory will be ours. Those who do not give us a way out, we will not give them a way out either. We will not withdraw troops until our goal is achieved."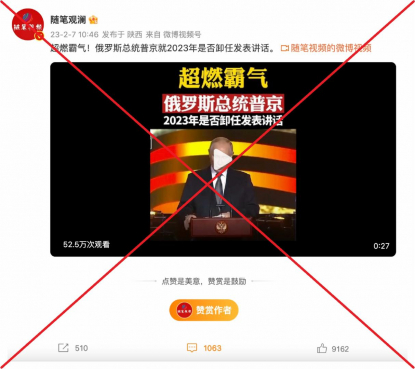 Screenshot of the false post taken on February 15, 2023
The video circulated after Putin vowed a decisive response to any country threatening Russia and lashed out against Germany for promising tanks for Kyiv on February 3, 2023.
Ukraine has pleaded with its Western backers to send modern battle tanks to help it push back a renewed Russian offensive and allow it to go on the attack itself.
The same video was also shared on Twitter, the Chinese version of TikTok Douyin and WeChat. Users on Weibo, WeChat and the online forum Netease shared the false subtitles as text posts.
However, the video has been edited -- it contains clips from two different speeches and Putin's address has been wrongly translated into Chinese.
As of February 17, 2023, there have been no official reports about Putin's resignation -- or any plans for him to resign -- in 2023.
In 2021, the Russian leader -- who has already been in power for more than two decades -- signed off on legislation allowing him to hold office for two additional six-year terms, AFP reported. This would allow him the possibility to stay as president until 2036, while his current term is set to end in 2024.
First video
A combination of reverse image and Google keyword searches found the first six seconds of the edited video can be seen in an AFP video published on YouTube on February 3, 2023.
The footage of Putin speaking can be seen in AFP's video at the 28-second to the 34-second mark.
However, the audio heard in the original clip is different from the one in the edited video.
Below is a screenshot comparison of the video with altered subtitles (left) and the original video (right):
Screenshot comparison of the false video (left) and the original video (right)
The video's description states that Putin was speaking on the 80th anniversary of the Red Army's victory over Nazi Germany in the Battle of Stalingrad, where he said Russia is being threatened by German tanks "again" as it was during World War II.
False subtitles
Reverse image and keyword searches found the second clip of Putin giving a speech used in the edited video published by the Russian state news outlet Tass on April 27, 2022.
The accompanying news report states Putin warned of retaliation against "anyone from outside" if they intervened in the war in Ukraine.
The visuals correspond to the first 21 seconds of Tass' video, while the audio of Putin's speech is similar to the first 27 seconds of the Tass video.
Instead of discussing plans for his resignation, Putin in fact says: "If someone else decides to interfere in the current situation from outside... they should know... and yes ... if they pose unacceptable strategic threats for us, they must know that our retaliatory strikes would be lightning-fast. We have all the instruments for that."
The transcript of this speech on April 27, 2022 can be seen here on the Kremlin's official website. Putin does not mention resignation at any point in the address.
Below is a screenshot comparison of the second clip with altered subtitles (left) and the original video (right):
Screenshot comparison of the misleading video (left) and the original video (right)
AFP has debunked a wave of misinformation following Russia's invasion of Ukraine here.