Social media posts misidentify Michigan State University shooter
Social media users are claiming that the shooter at Michigan State University's campus on February 13, 2023 was a man named "Lynn Dee Walker" who wrote a threatening Facebook post before opening fire. This is false; the person whose image has been shared online is not the gunman identified by authorities and the supposed Facebook post appears to be a digital fabrication.
"BREAKING: Michigan State University SHOOTING SUSPECT is 21 year old 'Lynn Dee Walker' according to dispatch audio. He is still on the loose and considered armed and dangerous," said a February 13 tweet posted shortly after the shooting. The tweet shared two photos of a white man with a beard and glasses.
A follow-up tweet shared what appeared to be a Facebook post authored that night by the same man saying, "Hope you're ready, MSU. All of you chuds are going to pay. Millions must fucking die." The timestamp on the supposed post is listed as "Today at 6:22pm."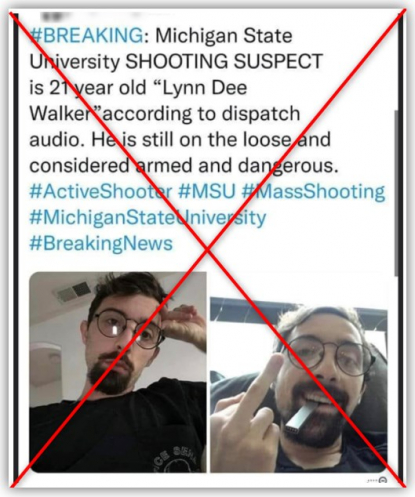 Screenshot from Facebook taken February 14, 2023
Screenshot of a tweet Twitter taken February 14, 2023 via the Internet Archive
---
The tweets have since been deleted -- and the Twitter account's handle has since been changed -- but similar posts circulated everywhere from the far-right forum 4chan and the messaging app Telegram to Twitter and Facebook.
The claims even seemed to reach the police, as a dispatcher can be heard on police scanner audio describing a tip that was phoned in on the night of the attack.
"We were sent a picture of a possible accused," the dispatcher says on the recording, which was uploaded to YouTube by the website Factba.se. "It's a white male, glasses, facial hair, made a threat on social media around 6:22, 18:22 today."
But the man described across social media as "Lynn Dee Walker" is not the gunman -- and the menacing Facebook post appears to be a hoax.
Authorities later named the suspected shooter -- who died from a self-inflicted wound after killing three people, wounding five and sending thousands more at the school's Lansing campus seeking shelter -- as 43-year-old Anthony McRae. McRae is Black. His motive remains unknown as of 1500 GMT on February 15.
A December 5, 2019, booking photo obtained from the Michigan Department of Correction shows Anthony Dwayne McRae ( Michigan Department of Correction / AFP)
Posts misidentify shooter
Reverse image searches using Google Lens and the facial recognition website PimEyes revealed the man whose image was erroneously shared online is a Twitter user who posts under the handle "@Logo_Daedalus." Two of the photos now circulating alongside false claims about the shooting were uploaded to that account in April 2020 and October 2020.
The same account denied involvement in the shooting on February 13, 2023.
"I am at my house in western massachusetts reading with my wife, if you see literally anybody spreading this shit, please get them to delete it," the account said in one of several tweets posted as social media users blamed him for the situation hundreds of miles away in Michigan.
In another tweet the next day, the account owner said he had been "falsely claimed to be a mass shooter."
AFP reached out with Twitter direct messages and through an email on the poster's website, but no response was forthcoming.
In previous tweets, however, he has said his first name is Cameron. He identified himself to the Associated Press as a Massachusetts writer named Cameron Fuller.
Account behind hoax admits to 'photoshop'
The name "Lynn Dee Walker" appears to be a moniker based on an internet meme, and the Facebook post using the "@Logo_Daedalus" account owner's image appears to be a hoax.
AFP found no such profile or post on Facebook.
In a series of tweets, the Twitter user who appears to have first posted Fuller's pictures has taken public credit for instigating the false rumors, saying the supposed Facebook post was a "photoshop meme" that used a fictitious name, and that it was "supposed to be an inside joke" but "went way out of proportion."
"Journalists are so intelligent, they can prove that Lynn Dee Walker was not infact the shooter, but actually a guy on Twitter," the poster wrote in one such tweet. "His name means nothing, definitely not a pun for Lindy Walker."
In response to one tweet from the "@Logo_Daedalus" account, the poster wrote: "I thought it wouldn't blow up but apparently it did and normies took it seriously."
Some others who repeated the hoax across social media have also walked back their claims or admitted to being duped.
AFP reached out to the Michigan State University Department of Police and Public Safety, but no response was forthcoming.
AFP has in the past debunked other posts misidentifying different mass shooters, including here.