Video falsely shared as man berating Indian film 'Pathaan'
Facebook and Twitter posts have recirculated an old clip that they falsely claim shows a moviegoer berating Bollywood hit "Pathaan" as the "worst film" in the world. The man in the video was actually talking about the 2017 movie "Jab Harry Met Sejal", which was widely considered a flop. The claim is the latest in a wave of misinformation targeting "Pathaan", which stars Muslim actor Shah Rukh Khan, over accusations of anti-Hindu content.
The video, which shows a man ranting about a movie, has more than 160,000 views in a tweet that says: "Exclusive #Pathaan review".
"This is the worst film made on this planet. Don't watch this movie even on gunpoint (sic)," he says in English.
He continues in Hindi: "Shah Rukh Khan was the king of romance some 20 years ago. That 20-year-old girl is now a 45-year-old woman. Now he is not the king of romance. Shah Rukh Khan is not a superstar. And only 20 percent seats in the movie theatre are occupied."
Bollywood superstar Shah Rukh Khan's film "Pathaan" smashed Indian box office records following its release in January, despite calls from hardline Hindu groups to ban it over a scene featuring an actress wearing a saffron-coloured bikini -- a colour associated with their religion.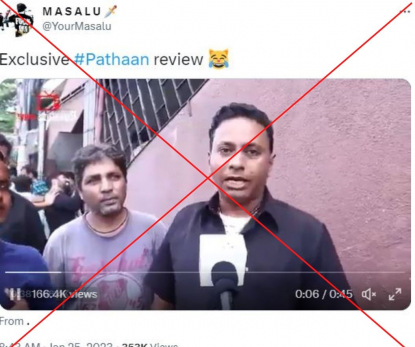 Screenshot of the misleading tweet taken January 26, 2023.
"Pathaan" was hit by a wave of misinformation ahead of its release, including false claims that a hardline Hindu politician urged people to boycott the film and that it featured a scene insulting Hindus.
Khan, who stars as the film's protagonist -- a suave spy -- is from India's Muslim minority.
The video was shared in similar posts on Facebook here and here and on Twitter.
'Utter flop'
A keyword search on YouTube found the clip was taken from a longer video posted on August 4, 2017 -- years before "Pathaan" was released.
The clip, posted on a channel called Viral Bollywood, is called: "Jab Harry Met Sejal Movie Review | Shahrukh Khan".
"Jab Harry Met Sejal", which stars Shah Rukh Khan, was released in August 2017 and received poor reviews.
Khan later branded the film an "utter flop" and said he felt he had "let people down".
The clip of the man shared in a false context on social media can be found from the video's 58-second mark.
The man later mentions the film's director Imtiaz Ali.
"Imtiaz Ali, please don't make films," he says in Hindi. "Please do something else. We watch films every Friday, please have mercy on us, on the audience."
The director of "Pathaan" is Siddharth Anand, according to the film's IMDB page.
Viral Bollywood's YouTube video was also embedded in a Reddit post on August 7, 2017 called: "Jab Harry Met Sejal Movie Review".