Old video recirculated to falsely claim 'ex-Pakistan president named journalist's killers'
A video of former Pakistani president Asif Ali Zardari giving a press conference has been viewed tens of thousands of times in multiple Facebook posts with the false claim that he mentioned the names of "the killers" of a Pakistani journalist who was shot dead by police in Kenya in October 2022. The original video was in fact broadcast live in May 2022, which predates the journalist's killing by several months.
The claim was posted here on January 20, 2023, alongside a four-hour two-minute video.
The post claims the clip is a live broadcast of Zardari -- who leads the Pakistan People's Party as part of the country's ruling coalition -- naming Pakistani journalist Arshad Sharif's "killers" in a press conference.
It has been viewed more than 51,000 times.
The Urdu-language caption alongside the video translates to English as: "The interview of Asif Ali Zardari created a stir. He also mentioned the names of the killers of Arshad Sharif."
Sharif, a critic of Pakistan's powerful military establishment and supporter of former prime minister Imran Khan, was shot dead by police in Kenya in his car at a roadblock outside Nairobi, AFP reported.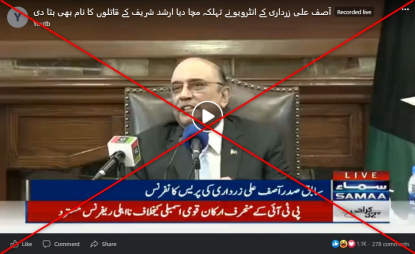 A screenshot taken on January 26, 2023, of the misleading Facebook post
Shorter versions of the video were published here, here and here on Facebook alongside a similar claim.
But the original video in fact shows a press conference hosted by Zardari in May last year about proposed electoral reforms following the ousting of Imran Khan as prime minister the previous month. He did not mention the killing of Sharif during the footage.
Electoral reform
Pakistani outlet Samaa TV uploaded a video on May 11, 2022 on its official YouTube channel, which shows Zardari speaking at the same press conference.
"Our game plan is that before elections there are electoral reforms," he said. "We have to do electoral reforms, we have to reform the accountability bureau."
On May 11, 2022, other Pakistan-based media outlets including Dawn newspaper and The News also reported on the same press conference.
The date under the logo of Samaa TV also shows the video was broadcast live on the same day, as circled in yellow in the screenshot below:
A screenshot of the misleading post in which the date of broadcast -- May 11, 2022 -- is circled in yellow.
Sharif was killed in Nairobi by police several months later in October.
Below is a screenshot comparison of the video in the false posts (left) and the original video (right):
Comparison of the video in the false posts (left) and the original video (right).
Pakistani outlet 24 News reported Zardari has condemned the killing of Sharif. "The killing of Arshad Sharif is an irreparable loss to the journalist community of Pakistan," he said.