Doctored image shared in posts about South Korean president's cancelled nuclear plant visit
A fabricated news article shared in Facebook posts in South Korea has misleadingly suggested that President Yoon Suk-yeol cancelled a nuclear plant visit in 2022 because he would rather drink alcohol. The article included an old photo of Yoon drinking soju from a 2021 news report, prompting some Facebook users to claim he cancelled the plant visit because he "wanted to drink". The original South Korean newspaper report -- which included a different photo of Yoon -- stated the trip was cancelled due to extremely cold weather.
The article's Korean-language headline translates to English as: "Breaking: President Yoon cancels his schedule due to an extreme cold wave... Won't attend the opening ceremony of a nuclear plant due to local authorities' emergency operation."
It shows a photo of Yoon drinking a shot of soju, a South Korean alcoholic beverage.
One Facebook post that shared a screenshot of the article on December 14 reads in Korean: "I'm sure he really wanted to visit [the plant] but his will [was hindered] by cold wave… what a 'sool poon' story."
"Sool poon" is a pun that means "heavy drinking" but also resembles the Korean word for "sad".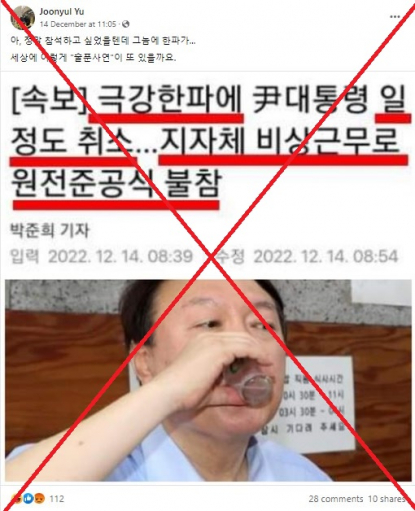 Screenshot of the misleading Facebook post, taken on December 21, 2022.
The doctored screenshot was also shared alongside a similar claim on Facebook here, here and here.
Yoon cancelled a trip to the opening ceremony of the Shinhan wool Nuclear Power Station in Uljin, citing "extremely cold" weather.
A presidential office spokesperson told AFP the visit was cancelled due to "safety concerns amid a cold snap that prompted local authorities to initiate emergency work".
Some Facebook users appeared to believe the posts showed a genuine news report.
"Wow. He cited "extreme cold snap" because he wanted to drink?" one user wrote.
Another said: "Neglecting duties because of alcohol? Leaders like him should be punished."
However, the posts shared a fabricated report.
Doctored screenshot
AFP found the screenshot had been manipulated from a report by the South Korean newspaper Munhwa Ilbo.
It published the original report about the cancellation of Yoon's trip on December 14 with the same headline and byline -- for journalist Park Joon-hee -- as the screenshot circulating on Facebook.
However, the photo in the report shows Yoon speaking in front of a South Korean flag, not drinking.
In the misleading posts, this photo was replaced with an old photo of Yoon taken before he was elected president.
The photo, published by South Korean daily Hankook Ilbo on August 1, 2021, is captioned: "Yoon Suk-yeol, a former prosecutor general and a presidential candidate from the political opposition, who visited a restaurant in Seo-gu, Busan on 27th last month, is drinking a cup of soju offered by a citizen during dinner with local politicians."
Below is a screenshot comparison of the doctored Munhwa Ilbo report (left) and the original report (right):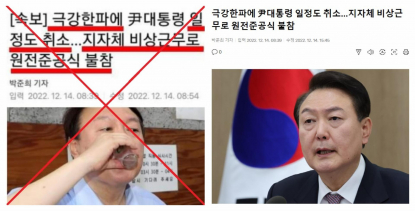 Screenshot comparison between the doctored report (left) and the original report (right).
Below is a screenshot comparison of the photo used in the doctored report (left) and the photo published on Hankook Ilbo in 2021 (right):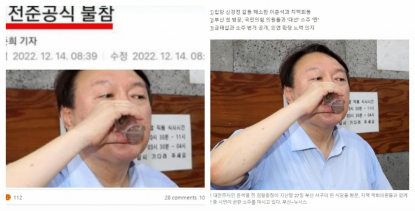 Screenshot comparison between the photo used in the doctored report (left) and the 2021 photo on Hankook Ilbo (right).
AFP previously debunked misleading claims about the South Korean leader here and here.