Old video resurfaces in misleading context following Istanbul blast in November 2022
Social media posts with hundreds of thousands of views have reshared an old blast video in a misleading context, claiming the footage shows a deadly bomb attack in a shopping avenue in Turkey in November 2022. The clip, however, shows a suicide bombing that targeted the same avenue in Istanbul in March 2016.
"We strongly condemn the suicide bombing in Turkey," reads an Urdu-language Twitter post shared on November 13, 2022.
"Those who take innocent lives are enemies of Islam and humanity. Heartfelt regret over the precious and innocent lives lost."
The 23-second clip -- viewed more than 80,000 times with the misleading claim -- shows a CCTV recording of people walking in a street shortly before an explosion.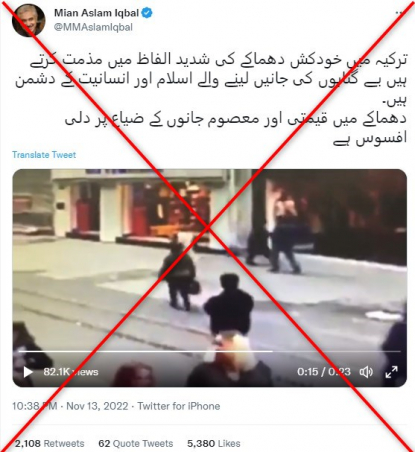 Screenshot of the misleading post. Taken on November 15, 2022.
The video resurfaced online hours after a bomb exploded in Istiklal Avenue, a popular thoroughfare in Istanbul home to smart boutiques and European consulates.
Turkey has accused a Syrian woman of planting the bomb that killed six people and wounded 80 others, blaming the outlawed Kurdistan Workers' Party of carrying out the attack, AFP reported.
The same footage was viewed more than 10,000 times on Facebook and Twitter in similar posts in Arabic, Persian and Urdu.
Pakistan's ARY News also used the clip in a report about the bombing that has been viewed more than 300,000 times on Facebook.
However, the video is old.
2016 suicide bombing
A reverse search of the video's keyframes on Russian search engine Yandex found a longer version of the video published here on Twitter by Turkey's Evrensel Daily on March 19, 2016.
"#Taksim clearer images emerged of the suicide bomb attack on Istiklal Avenue," the Turkish-language tweet reads.
"Taksim" refers to a popular square in Istanbul where Istiklal and other avenues converge.
Below is a screenshot comparison of the video in the misleading posts (left) with the one from Evrensel (right):
Screenshot comparison
On March 19, 2016, four foreigners were killed in a suicide attack in Istiklal by a bomber who authorities described as a Turkish jihadist with ties to the Islamic State group, AFP reported.
Scenes in the video correspond to Google Street View imagery below of Istiklal Avenue in Istanbul:
Versions of the video were also published in March 2016 by the Russian state video agency Ruptly here and British newspaper The Daily Express here.
AFP previously debunked Arabic-language posts that have misleadingly shared the video here.