Old video from China circulates in Facebook posts claiming to show drowning of Nigerian singer's son
Facebook posts sharing CCTV footage of a toddler drowning in a swimming pool claim the clip shows the son of popular Nigerian singer David Adedeji Adeleke, known as Davido. The footage has been viewed thousands of times but the claim is false. The video is of an incident in China involving a two-year-old and was recorded in 2019.
On November 2, 2022, Nigerian Facebook posts shared a graphic video of a toddler struggling to stay afloat in a white pool.
"CCTV footage of how little Prince Ifeanyi David Adeleke get dr@wn (sic)," reads a post viewed 22,000 times and shared more than 500 times.
A screenshot of the false Facebook post taken on November 7, 2022
The same claim was shared elsewhere on Facebook (here and here), as well as on Twitter and TikTok (here and here).
The posts surfaced after Davido's son, Ifeanyi Adeleke, drowned in a pool at the star's home in the upmarket Lagos neighborhood, Banana Island on October 31.
According to local reports, police reviewed CCTV while questioning workers who were looking after the three-year-old when the accident happened.
However, multiple clues in the widely circulated CCTV footage circulating on Facebook reveal the visuals do not show Adeleke drowning.
Verification clues
Firstly, the pool in the video is different in size and colour from one seen in Davido's Instagram stories showing him swimming with his son (see here and here).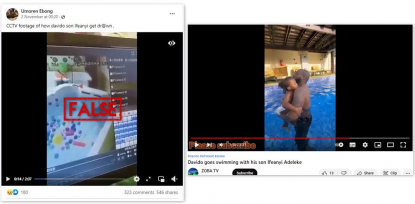 Screengrabs showing the swimming pool in the false post, left, and the pool in which Davido was swimming with his son
Secondly, the captions in the video are in Chinese, indicating it might not have originated in Nigeria.
An online search led us to a longer and clearer version of the video shared on Instagram which dates the CCTV footage to August 23, 2019.
A screenshot of the longer CCTV footage showing the date stamp circled in red, taken on November 7, 2022
According to Chinese media, the accident happened on August 23, 2019, in China's second-largest province of Sichuan in a district called Xuzhou located in Yibin city.
"In the afternoon on August 23, there was an accident where a child drowned at a swimming pool for infants at the pedestrian zone in the city centre in the Xuzhou District in Yibin city in Sichuan," reported HongXing News. "On August 28, surveillance footage from the swimming pool was released locally. It recorded the accident completely and sounded alarm bells for all parents."