Fake Global News headline about Alberta premier spreads online
An image that appears to show an article by Canada's Global News about a remark on unvaccinated people by newly sworn-in Alberta Premier Danielle Smith has been shared thousands of times. But a spokesperson for the Canadian broadcaster said the headline was fabricated, and the purported article does not appear on live or archived versions of the company's website.
"Danielle Smith could be charged with hate speech after claims about unvaccinated discrimination, experts say," is the headline of what appears to be a story by Global News that has been shared as an image in an October 12, 2022, tweet.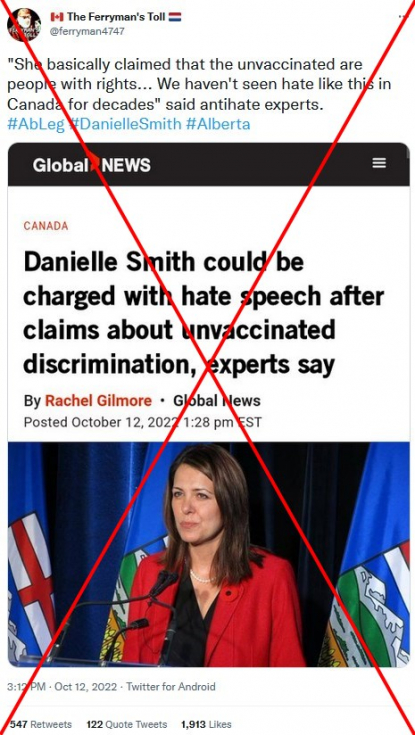 Screenshot taken on October 17, 2022 of a tweet
The tweet, which does not include a link to the purported article, circulated following Smith's inaugural press conference on October 11 where she sparked a controversy by telling reporters that people who chose not to get vaccinated against Covid-19 have been the "most discriminated against group that I've ever witnessed in my lifetime."
Smith, who has criticized Covid-19 restrictions and vaccine mandates, was sworn in as the Western province's premier after her predecessor Jason Kenney stepped down from his role as United Conservative Party leader in May 2022.
On October 12 she issued a statement to clarify her comments saying: "I want to be clear that I did not intend to trivialize in any way the discrimination faced by minority communities and other persecuted groups both here in Canada and around the world or to create any false equivalencies to the terrible historical discrimination and persecution suffered by so many minority groups over the last decades and centuries."
Smith's comments triggered a backlash from critics who said it minimized the discrimination against Canada's indigenous peoples and other minorities over the years.
But the claim that Global News published a story saying that experts considered her statement on unvaccinated people "hate speech" is false.
Searching for the headline on Global News' website did not find it, nor did it appear on an archived version of the site captured shortly after the story was supposedly published.
The purported story includes a byline of Ottawa-based reporter Rachel Gilmore, but it does not appear on her author page, and she debunked it on Twitter saying: "If you see a screenshotted article, particularly one that stokes outrage, look for the actual link on Google before you share."
Global News also confirmed that the outlet did not publish such an article.
Michelle Brykman, a spokeswoman for Global News, said in an email: "This was not published on our site and is falsely associated with the Global News brand."
This is the latest example in a series of posts using imposter content to target Global News and other Canadian news outlets.