Clip of wave clouds falsely linked to Hurricane Ian
A video of menacing gray skies taken from a beach in Florida is circulating online with the claim it shows the "eye" of Hurricane Ian, which wreaked havoc in the US state in September 2022. But the footage is not of the storm, AFP found, it is more than a year old and meteorologists said it shows a different cloud formation.
"This is the eye of Hurricane Ián, Florida. #HurricanIan," a tweet shared on September 29, 2022 says.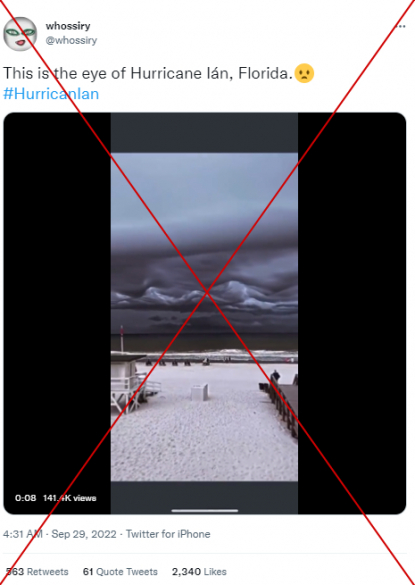 A screenshot of a tweet taken on September 30, 2022
The clip also circulated in a Spanish-language post here, and was picked up by news sites here and here.
But the video does not show the deadly hurricane.
"There is no way that was taken yesterday in the eye of the storm," Tyler Fleming, a senior meteorologist at the US National Weather Service in Tampa Bay, where Hurricane Ian hit the hardest, told AFP on September 29.
Ian left a trail of devastation across Florida and officials reported multiple deaths as the storm headed for South Carolina and other parts of the United States.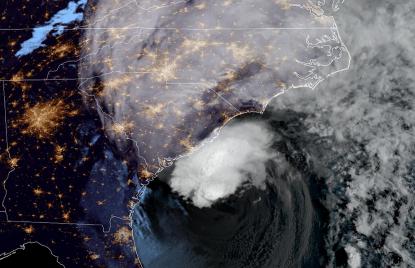 This National Oceanic and Atmospheric Administration (NOAA) satellite image shows Hurricane Ian on September 30, 2022 ( NOAA / RAMMB / AFP / Jose Romero)
"While there can be a brief period of calmer conditions in the eye of a hurricane," Fleming said, "that would only happen immediately after the first eyewall (what surrounds the eye of a storm) passes over with extremely damaging winds."
He said it was clear "from the people, the beach chairs, the volleyball net, and the lifeguard stand, no such winds had already occurred."
Instead, what can be seen in the clip is a shelf cloud with undulating asperatus clouds -- also referred to as asperitas -- underneath, according to the meteorologist.
Fleming said: "These could occur with normal thunderstorms coming onshore, and would not be associated with an eyewall."
Marshall Shepherd, a professor of Atmospheric Sciences and Geography at the University of Georgia, also confirmed the video did not show footage of Hurricane Ian.
2021 footage
Through a Google image search, AFP found that the video depicts Fort Walton Beach, which is located along the panhandle of Florida, hundreds of miles from where Ian made landfall.
Media coverage of the clouds point to a video that was posted by Andrew Farnam on Facebook on June 21, 2021 with the caption: "This was in Fort Walton Beach, Florida."
AFP Fact Check also debunked the video in Spanish, here.