Old satellite images falsely shared as 'Typhoon Noru in 2022'
Facebook posts shared thousands of times claim to show photos taken from space of Typhoon Noru hurtling towards Vietnam in September 2022. However, the satellite images are actually of two different typhoons – one also named Noru in 2017 and Typhoon Trami in 2018.
"The image everyone wants to see: Noru," reads a Thai-language Facebook post shared more than 9,000 times.
"Live satellite images before it makes landfall in Vietnam tomorrow. It's huge."
The post was published on September 27, as Typhoon Noru barrelled towards Vietnam's central coast.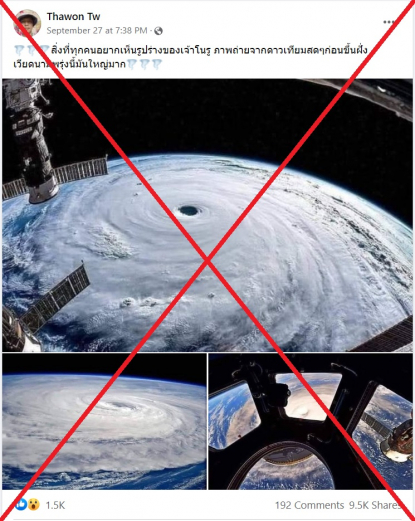 Screenshot of a Facebook post sharing the false claim, taken on September 30, 2022.

The storm tore roofs from homes and caused power outages across central Vietnam, with hundreds of thousands of people taking refuge after the storm claimed at least 10 lives in the Philippines.
Vietnam is frequently lashed by heavy storms in the rainy season between June and November, with central coastal provinces the worst affected, but scientists have warned they are becoming more powerful as the world gets warmer because of climate change.
The photos were shared in similar Facebook posts in Thailand here, here and here; and in Vietnam here and here.
However, the photos were taken years before the 2022 typhoon hit Vietnam.
Satellite images
The first photo was posted by German astronaut Alexander Gerst in a tweet about Typhoon Trami, which lashed Japan in September 2018.
As if somebody pulled the planet's gigantic plug. Staring down the eye of yet another fierce storm. Category 5 Super Typhoon Trami is unstoppable and heading for Japan and Taiwan. Be safe down there! #TyphoonTramipic.twitter.com/4VmY2hhj2c

— Alexander Gerst (@Astro_Alex) September 25, 2018

The photo was also shared on Flickr by the European Space Agency on September 25, 2018.
The powerful typhoon killed four people, with the storm's aftermath bringing travel chaos to Tokyo.
The second and third photos featured in a report from August 2, 2017 by Hong Kong newspaper South China Morning Post (SCMP).
According to the report, the photos show a typhoon also called Noru, which killed two people and injured 51 in Japan in August 2017.
The SCMP reported: "Astronauts and cosmonauts currently aboard the International Space Station are also keeping a close eye on Noru -- and the images they're sending back to Earth over Twitter are quite stunning."
The article credits the second photo to Russian cosmonaut Sergey Ryazansky and the third photo to NASA astronaut Randy Bresnik.
Ryazansky tweeted the photo on August 1, 2017; and Bresnik the next day.
Below are a screenshots comparing photos in the false posts (left) and the original images (right):

Screenshot comparison between the images falsely shared in the misleading Facebook posts (left) and the original images (right)