Pakistan newspaper headline doctored to suggest floods caused by 'not reading Koran'
A screenshot appearing to show a report by Pakistan's oldest English-language newspaper Dawn attributing devastating floods to people "not reading the Koran" is circulating online, prompting Indian social media users to mock their Pakistani neighbours. However, the image was doctored and does not show a genuine article.
The screenshot apparently showing an article by Dawn was posted on Facebook on September 1.
It features the headline: "Flood in Pakistan is not due to Climate Change, but because people are not reading Quran".
The article was purportedly written by Dawn journalists Saleem Shahid, Manzoor Ali and Iftikhar A. Khan and published on August 27.
The post mocks the newspaper and its Pakistani readers.
"It's also shameful for the Indian Muslims who rate Pakistan ahead of India," it adds.
The two South Asian neighbours have been locked in a bitter rivalry since Partition in 1947 divided the two countries and sectarian bloodshed killed possibly more than one million people.
A screenshot of the misleading Facebook post taken on September 23, 2022
The same screenshot was published here on Facebook and here, here and here on Twitter.
The purported Dawn article spread after a third of Pakistan -- an area the size of Britain -- was battered by unprecedented floods, killing nearly 1,600 people and displacing more than seven million.
Pakistan Prime Minister Shehbaz Sharif warned that his country's worst-ever floods were a sign of climate catastrophes to come around the world during an address at the United Nations General Assembly on September 23.
He also urged justice for developing nations that bear little responsibility for warming.
The screenshot appearing to show the Dawn article has been doctored.
The newspaper debunked the "fabricated headline", brandishing it as an attempt to "mislead (the) public".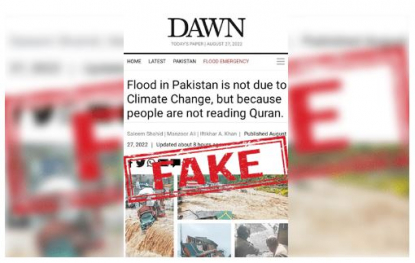 Screenshot of a Dawn report debunking the fake article, taken on September 26, 2022
The screenshot was doctored from a report published on August 27 by Saleem Shahid, Manzoor Ali and Iftikhar A. Khan with the headline: "Army called in as KP faces flood threat."
KP is an abbreviation referring to Khyber Pakhtunkhwa, a northwestern Pakistani province bordering Afghanistan.
"The fabricated headline shown in the doctored screenshot neither appears in the actual story nor anywhere else on the website," the newspaper said.
"It has been shared multiple times on Twitter and Facebook, mostly by accounts identifying themselves as Indian users."
AFP ran a keyword search on Dawn's website for reports from August 27 by the journalists mentioned and found the article about the army's intervention in Khyber Pakhtunkhwa.
AFP has previously debunked a string of false claims about the floods in Pakistan, including here and here.
September 27, 2022 This article was updated to add an 'AFP Pakistan' byline