Video shows man wakeboarding through flooded Moscow, not Seoul
After record-breaking rains caused severe flooding in parts of South Korea's capital Seoul, a video was shared repeatedly in Korean-language social media posts that claim it shows a man waterskiing through the city. The video, however, has been shared in a false context. It actually shows a man wakeboarding along a flooded street in the Russian capital of Moscow in 2016.
The footage -- which features the logo for South Korean broadcaster YTN -- shows a man wakeboarding past a line of cars in an urban area.
"Waterskiing in Seoul. Thank you, Yoon 'boozer' president and Se-hoon," reads the Korean language claim shared here on Facebook on August 9, 2022.
"Yoon" refers to South Korean President Yoon Seok-yeol, while "Se-hoon" refers to Seoul Mayor Oh Se-hoon.
The clip's Korean-language chyron translates to English as: "[Man] immersed in waterskiing in flooded city".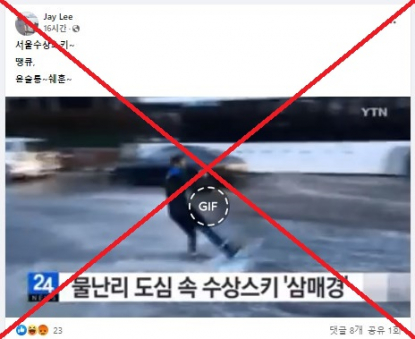 Screenshot of the misleading claim shared on Facebook, captured August 10, 2022.
The claim circulated online after parts of Seoul were flooded after the city experienced its heaviest downpour in 80 years on August 8, 2022, AFP reported. 
At least seven people were killed and seven others were reported missing.
The video was shared alongside a similar claim on Facebook here, here and here.
Comments on the posts indicated some users were misled to believe the video was genuinely filmed in Seoul.
"This is all because of Oh Se-hoon!" one user wrote.
"Wow, there are people this like this in South Korea. What is wrong with the country?" said another.
But the video has been shared in a false context.
Moscow footage
A keyword search on Google found the corresponding YTN news clip posted here on the broadcaster's YouTube channel on August 17, 2016. 
The video's description reads, in part: "This [clip] shows Moscow, the capital of Russia, which was recently hit by record rainfall. Cars are moving like turtles due to flooding in the streets, but one car speeds by, with a man attached behind riding a waterski.
"He rides the water flooding the streets, and even performs tricks like jumps and spins. Around 80 people are said to have evacuated their vehicles in Moscow due to heavy rains."
Below is a screenshot comparison of the video shared in the misleading Facebook posts (left) and the original YTN news clip posted to YouTube (right):

Screenshot comparison of the video shared in the misleading Facebook posts (left) and the original YTN news clip posted to YouTube (right)
The same clip of the wakeboarder in Moscow was included in reports by international media including the BBC and Euronews.
Moscow was hit with torrential rains on August 15, 2016, that beat a 129-year record for the heaviest August downpours, AFP reported. 
'Staged stunt'
A keyword search on the Russian search engine Yandex found a Russian-language report here that says the video features wakeboarder Nikita Kantorov and was staged by Andrei Trukov. 
AFP found corresponding footage published here on Trukov's Instagram page on August 16, 2016.
He shared another video and photo of the stunt on the same day.
The Russian-language news report and comments in Trukov's posts indicated the video was filmed near the Pavshinsky floodplain in Krasnogorsk, a suburb of Moscow. 
The location in the video corresponds with Google Street View imagery seen here:
Below is a screenshot comparison of the YTN news clip (left) and the corresponding location on Google Maps (right), with matching features circled in red by AFP:
Screenshot comparison of the YTN news clip (left) and the corresponding location on Google Maps (right)