Misleading posts claiming Rishi Sunak elected UK prime minister in July spread in India
Facebook posts circulating in India have repeatedly shared the misleading claim that British politician Rishi Sunak -- an ethnic Indian -- had been elected UK prime minister on July 12. Whilst Sunak is vying to succeed Boris Johnson, the country's new prime minister will not be known until September 5.
The misleading claim was shared on Facebook on July 12.
The post -- written in the Kannada-language spoken mainly in India's southwest -- translates as: "Sri Rishi Sunak, son-in-law of Mrs. Sudha Narayana Murthy of Infosys, elected as Britain's prime minister today a person of our country has become the Prime Minister of that country which ruled India for 250 years.
"This is a matter of pride for the country. Change is the rule of the world."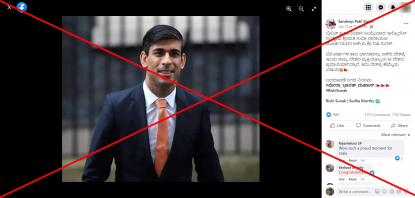 A screenshot of the misleading Facebook post captured on July 18, 2022
The posts circulated after British Prime Minister Boris Johnson announced his resignation as leader of the Conservative party on July 7, triggering a race to succeed him after a frenzied 48 hours which saw dozens of ministers desert his scandal-hit government, AFP reported.
Former finance minister Sunak is going head to head against Foreign Secretary Liz Truss for the premiership.
Sunak, an observant Hindu, has been better known in India through his wife Akshata Murty, daughter of the Indian tycoon Narayana Murthy who founded information-technology group Infosys.
His grandparents were from Punjab in northern India and emigrated to Britain from eastern Africa in the 1960s.
Sunak could become Britain's first prime minister of colour, while Truss would be only the third woman leader after Margaret Thatcher and Theresa May, AFP reported.
The misleading claim was also shared on Facebook here, here and here.
Comments to the posts indicate social media users believed Sunak had been elected prime minister in July.
"Such a proud moment for India," one wrote.
Another user posted, "Congratulations to Britain prime minister Rishi Sunak."
However, the UK's Conservative party is not set to announce a new leader until September 5 and he or she is expected to take over the following day.
Johnson remains prime minister until his successor is formally appointed by Queen Elizabeth II, AFP reporting confirms.
Multiple keyword searches on Google did not find news reports as of August 3 that Sunak had been elected prime minister, contrary to the claim in the posts.