This video shows a fire in Rome, not the Vatican City
A video has been viewed tens of thousands of times in social media posts alongside the false claim it shows a massive fire engulfing the Vatican -- a tiny city state located in the Italian capital Rome -- on July 10. In reality, the video shows a fire near an archaeological park in Rome. AFP found no reports of the incident described in posts.
The video was viewed over 24,000 times since it was shared on Twitter on July 12.
It appears to have been filmed from a moving vehicle and shows thick black smoke obscuring a portion of the distant blue sky.
The caption of the video in simplified Chinese translates in part as: "The Vatican witnessed a fire that covered the sky on July 10, 2022. Thick black smoke filled the sky.
"It is said that even the Vatican's underground passages were engulfed in flames, leading many netizens to believe that the world had ended."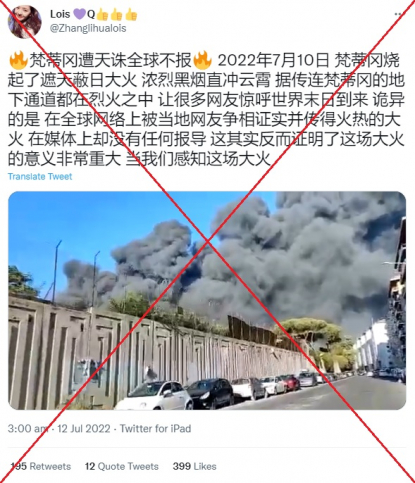 Screenshot of the false post taken on July 18, 2022
The post circulated online as multiple fires broke out in Rome in July.
However, there were no reports of fires in July in the Vatican.
An identical video was viewed more than 26,000 times alongside a similar claim here and here on Weibo, here and here on Twitter, and here on US social media site Gettr.
The video had been shared in a false context.
Fire in Rome
Keyword searches on Google found the same video published on Twitter by the Italian news organisation Inews24 on July 9.
The caption of the video translates as: "Fire in #Rome, scary images / Video from our correspondent."
Below is a screenshot comparison of the video in one of the false posts (left) and the video published by Inews24 (right):
The video corresponds to this Google street imagery near the Centocelle Archaeological Park in Rome -- located about 13 kilometres from the Vatican.
Below is a screenshot comparison of the video in one of the false posts (left) and its corresponding street imagery on Google Maps (right):
Screenshot comparison of the video shared in one of the false posts (L) and corresponding street imagery of the Centocelle Park on Google Maps (R)
AFP also published images of the fire near the archaeological park in Rome here and here.
The caption to one of the images reads: "Smoke rises from burning vegetation after a fire broke out near Centocelle archaeological park, in eastern Rome, on July 9, 2022."