Footage of violence after George Floyd murder falsely shared as '2022 looting'
Footage of vandals wreaking havoc in a street is circulating in Facebook posts that claim it shows "protests, vandalism and looting" on the West Coast of America in May and June 2022. The claim is false; the video was filmed in Cleveland, Ohio, in May 2020, when the murder of George Floyd sparked protests and unrest across the United States.
"What wonderful sight to behold!! Protests, vandalism and looting rage across the west coast of US on 31/5 and 1/6/22 but not reported by CNN & BBC. Also not by Singapore's CNA," reads this post, which was uploaded on June 25, 2022.
The post, which appeared in a pro-China Facebook group with more than 123,000 members, shared footage that shows crowds smashing shop windows in a street.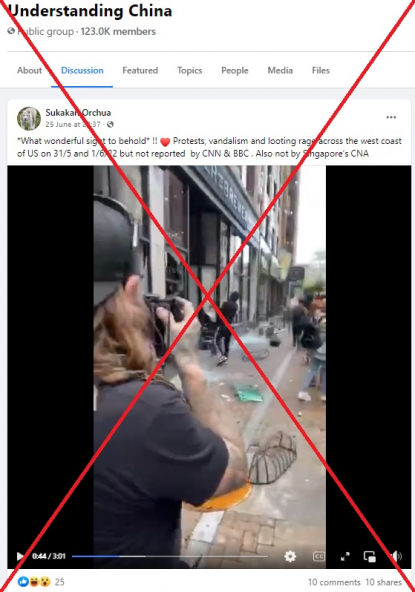 Screenshot of the misleading post, taken on July 8, 2022
The post's caption appears to allude to a quote from US House Speaker Nancy Pelosi, "It is a beautiful sight to behold", spoken when she reacted to a candelight vigil held in Hong Kong to commemorate the Tiananmen Square massacre. 
Pro-China social media users have used Pelosi's quote to mock America. 
The same video was also circulated alongside a similar claim on Facebook here, here and here.  
Comments from Facebook users show they believe the claim.
"The media is too biased and controlled! You can't search anything related to the riots!" one said, while another wrote: "Its an American freedom of navigation to do anything !"

However, the claim is false.
A reverse image search and keyword searches found a video posted on YouTube on May 30, 2020 by News 5 Cleveland, a local broadcaster based in Cleveland, Ohio.
The video, which shows crowds attacking shops in the street from a different angle, is titled: "Vandals destroy Cleveland's iconic East 4th Street".
East 4th Street is a popular dining and entertainment spot in downtown Cleveland.
Below is a screenshot comparison of the video shared in a false context on Facebook (left) and News 5 Cleveland's video from May 2020 (right), with corresponding features highlighted by AFP: 
Screenshot comparison of the video in the misleading post (L) and the YouTube video (R)
Various local media outlets, including here and here, reported on the vandalism that broke out amid wider protests following the murder of George Floyd.
Floyd, an African American, was killed on May 25, 2020 by a police officer who knelt on his neck for nearly 10 minutes during an arrest.
Floyd's death sparked protests against racial injustice and police brutality across the United States.
Local news outlet WKYC Studios published photos of the businesses targeted in the attacks, including Cleveland Clothing Company and the Butcher and the Brewer.
Pictures from the WKYC Studios' report featuring one of the destroyed business venues, the Butcher and the Brewer
Ohio is a state that is part of the Midwestern region of the US.
Keyword searches on Google did not find any news reports of protests, vandalism and looting on the West Coast of America published between May 31 and June 2, 2022.
There was, however, a strike by fast-food workers in Sacramento, California, on May 31, which was reported by local media including The Sacramento Bee and ABC10. No violence was reported in the demonstration.