Factory fire video has circulated since April 2022 and predates deadly Bangladesh port blaze
Soon after a massive fire tore through a container depot in southern Bangladesh on June 5, 2022 and killed more than 40 people, a video was viewed thousands of times in social media posts that claim it shows a fire in the capital Dhaka on the following day. However, the clip of a burning building has been shared in a misleading context; while there was a fire in a Dhaka factory, it took place more than a month earlier than purported, on April 15, 2022.
The video was shared here on Facebook on June 6, 2022, where it has been viewed more than 12,000 times.
"Oh my God! A fire just broke out on road number 4 in Old Dhaka. Oh God, we can't take it anymore! Tired of seeing news of fire incidents. Have mercy on us God," the Bengali-language caption reads.
Old Dhaka refers to the historic old city of Dhaka, Bangladesh's capital.
Screenshot of the misleading post, captured on June 10
The video circulated in the days after a fire tore through a shipping container depot in Sitakunda, an industrial town 40 kilometres (25 miles) from Chittagong Port in southern Bangladesh, killing more than 40 and injuring hundreds.
Despite a booming economy, industrial infrastructure in Bangladesh remains poor, leading to frequent blazes in factories and multi-storey buildings.
The same video was also shared elsewhere on Facebook here on June 6 and here on June 7.
"Oh God, pardon us," read one comment, while another commenter wrote "So sad".
However, the video has been shared in a misleading context; the blaze predates the June 5 port fire.
A combination of keyword and reverse image searches found the same video uploaded here on TikTok on April 15, 2022 by a user named Md Hafiz Khan.
A voice can be heard in the TikTok video saying: "A fire has broken out on road number 4 in Shahid Nagar."
Shahid Nagar is a neighbourhood in Old Dhaka.
Below is a screenshot comparison between the video shared in the misleading Facebook post (L) and the video posted on TikTok (R):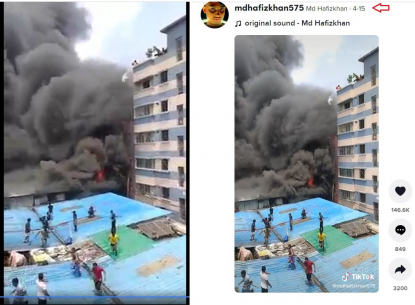 The same account also uploaded other videos of the fire here and here.
In another video from a different angle, the man seen in the user's profile picture is shown at the scene.
Similar videos and images of the fire can be seen in local media reports here, here and here about a fire at a plastics factory in the Shahid Nagar area on April 15.
Below is a screenshot comparison between the video shared in the misleading Facebook post (L) and the footage used in a video posted on YouTube by local media:
Screenshot comparison of the video shared in the misleading Facebook post (L) and footage used by local media (R) with corresponding features highlighted by AFP