Crimea arrest footage shared in false reports of 'US general detained in Ukraine'
Footage of Russian intelligence agents detaining a man has been viewed thousands of times in Facebook posts that claim it shows a top US general being arrested in Ukraine. But the claim is false. AFP traced the video to Russian news reports of an unidentified man being detained in March on suspicion of aiding an "illegal armed group" in Crimea. NATO has repeatedly debunked rumours that Roger Cloutier was arrested in Ukraine, and he has been seen publicly since the posts were shared.
"Confirmed: US general arrested by Russia while trying to flee Mariupol," reads a Burmese-language Facebook post shared on April 14.
"Russian forces arrested US General Roger L. Cloutier while he was trying to flee #Mariupol after providing military guidance to Ukrainian forces and mercenaries."
The blurry video, viewed more than 3,300 times, shows a man wearing a baseball cap led away by armed men in military uniforms. A photo of Cloutier is superimposed on the video in the top, left-hand corner.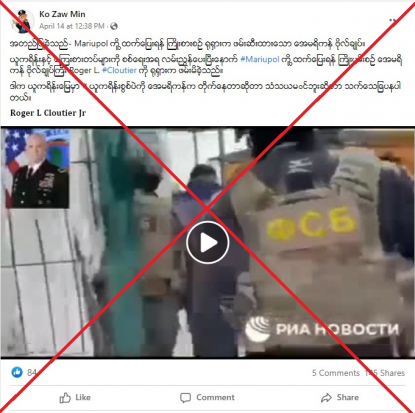 Screenshot of the misleading video, taken on May 16, 2022
The footage was shared on Facebook and Twitter in various languages, including English, Burmese, French and Romanian.
The city of Mariupol, located in southeast Ukraine between Russia-occupied Crimea and pro-Russian separatist regions in the east, has seen some of the fiercest fighting in the conflict.
On May 20, Russia said that a total of 1,730 Ukrainian soldiers had surrendered at the besieged Azovstal steel plant in the port city.
NATO denial
AFP previously debunked false claims shared online in the first week of April that Cloutier -- who heads NATO's Allied Land Command -- was detained by Russian troops in Mariupol.
A representative for NATO's Supreme Headquarters Allied Powers Europe (SHAPE) told AFP on April 27 that the rumours of Cloutier's purported arrest in Ukraine were still baseless.
"These claims are completely false," the spokesperson said.
They added that Cloutier had not visited Ukraine since July 2021, when he attended talks in the capital Kyiv aimed at strengthening NATO's partnership with Ukrainian forces.
Social media posts shared after the false claim resurfaced show Cloutier meeting with military officials.
A LinkedIn post from April 18 showed Cloutier speaking at an event in Izmir, Turkey, where the NATO Allied Land Command is based.
On April 27, Cloutier posted a photo on LinkedIn showing him shaking hands with a senior NATO officer.
"On April 27 I had the opportunity to meet with commanders at Allied Air Command (AIRCOM) and discuss the importance of NATO air assets and land forces working together to reach joint operational objectives," he wrote.
The next day, the official NATO Allied Air Command Facebook page posted the same photo and another picture showing Cloutier alongside several soldiers.
Crimea arrest
A reverse image search on Yandex found the false post's footage in Russian news reports about a man detained on suspicion of helping an "illegal armed group".
The video was published on April 7 by Russian state news agency TASS and state television channel Zvezda, which said the man was arrested in March in Crimea by the FSB, Russia's intelligence agency.
The FSB initials written on the uniforms of the men in the footage correspond to those seen in a video on the agency's website.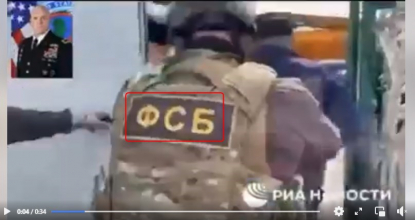 Screenshot of the Facebook video, taken on May 18, 2022
Screenshot of the video on the FSB website, taken on May 1, 2022
TASS and Zvezda reported that the man, whom they did not name, provided food and resources to "an illegal Tatar battalion".
Crimean Tatars are a predominantly Muslim ethnic minority that mostly opposed Russia's annexation of the peninsula in 2014.
The photo of Cloutier in the top-left corner of the misleading video does not appear in the Russian news reports.
The misleading video also bears the watermark of Russian state news agency RIA Novosti.
A keyword search found an article by RIA Novosti from April 7 featuring the same footage, headlined "A soldier of the Crimean Tatar battalion was detained in Crimea".
Screenshot of Ria Novosti's website, taken on May 2, 2022
AFP has debunked a wave of misinformation around the Ukraine conflict.