Image of ancient Egyptian clothing is not 'photo of Prophet Mohammed's cloak'
A photo has been shared thousands of times on Facebook alongside the claim it shows a cloak belonging to the Prophet Mohammed, who is traditionally believed to have lived until the 7th century. This is false. The image corresponds with photos of ancient Egyptian clothing housed at a prestigious Italian museum that specialises in Egyptian artefacts. According to the museum's website, the tunic dates back several millennia before the prophet is believed to have lived.
The photo was posted on Facebook on April 26, 2022, and shared over 2,700 times.
The Bengali-language caption to the image translates as: "The holy cloak of the great teacher of humanity Prophet Mohammed (PUBH)."
Bengali is the official language of Muslim-majority Bangladesh, and is spoken widely in neighbouring Indian states.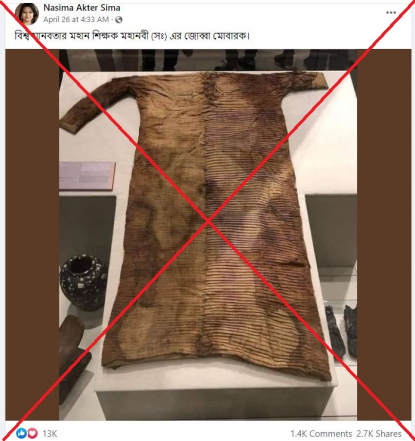 The photo was also shared alongside a similar claim on Facebook here and here.
But the claim is false.
Egyptian culture museum
Combined keyword and reverse searches on Google found the image corresponds to a similar photo published here on the website of the Museo Egizio, a museum in the Italian city of Turin devoted entirely to ancient Egyptian culture.
The museum photo's description states it shows a pleated tunic and dates the clothing from "2435–2118 BCE" -- several millennia before the prophet is believed to have lived.
The Prophet Mohammed -- Islam's founder -- is believed to have been born in 570 in Mecca and died in 632 in Medina, both in Saudi Arabia.
Below is a comparison between the photo in the false posts (left) and the photo on Museo Egizio's website (right):
The photo in the false posts also corresponds with a frame in this YouTube video posted on March 6, 2021, which is titled, in part, "Egyptian Museum of Turin - 2nd Floor Walking Tour".
Text overlaid on the frame describes the image as a pleated tunic from 2435–2118 BCE.
Below is a comparison of the photo in the false posts (left) and the frame in the video (right) with the corresponding elements highlighted: