False posts about 'Covid vaccine requirement for voters' spread ahead of Philippine poll
Facebook, Twitter, YouTube and TikTok posts circulating ahead of the Philippines' polls on May 9 claim voters are required to present proof of Covid vaccination or a negative coronavirus test in order to vote. This is false: voters only need to wear a face mask to vote, according to the country's elections agency Comelec. The video featured in the posts -- watched over a million times -- shows an erroneous news report aired on local broadcaster TV5 that was later corrected.
The claim was shared on Facebook on April 27, 2022.
The post features a two-minute video bearing the logo of Frontline Tonight, a newscast produced by local television broadcaster TV5.
The clip is overlaid with text that states: "NEW RULES ON VOTING IN THE 2022 ELECTIONS / NO FACE MASK NO FACE SHIELD NO VOTE / AND PRESENT YOUR VACCINATION CARD / DATE AIRING: JANUARY 27, 2022".
The post's caption asks: "How to vote???"
In the clip, a news anchor says: "Right now, Comelec still requires individuals to wear face masks and face shields to be able to vote.
"Once you arrive at the polling precinct, you need to present your vaccination card. Comelec requires that you are vaccinated before you can vote. But for the unvaccinated who still want to exercise their right to vote, you need to bring your latest RT-PCR test result and you need to have tested negative."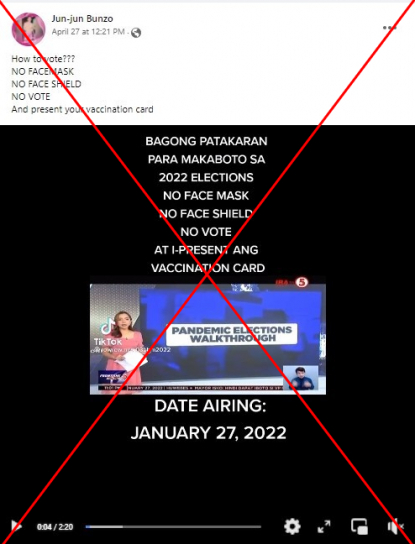 A screenshot of the false post, taken on May 6, 2022
Comelec is an abbreviation of the Philippines' Commission on Elections, which oversees local polls.
The Philippine election on May 9 is seen as one of the most consequential in the country's history -- a potentially make-or-break moment for the young democracy.
Ferdinand Marcos Jr, son of the late dictator Ferdinand Marcos, has a seemingly unassailable double-digit lead, winning widespread support by forging alliances with several of the country's rival political dynasties.
But his juggernaut campaign has been propelled by social media misinformation seeking to rewrite history about his father's brutal rule.
The video was viewed over 1.7 million times on Facebook here and here; Twitter here; TikTok here; and YouTube here.
Comments indicate these posts misled social media users.
One asked: "You have so many rules. Why are you discriminating against the unvaccinated?"
Another said: "So you're lenient during campaign rallies but make up these strict rules for election day?"
The claims in the video, however, are false.
"Voters are NOT required to wear a face shield or present a vaccination card or negative Covid-19 test result," Comelec wrote on Facebook on May 3.
In a television interview with news channel ANC a day earlier, Comelec commissioner George Garcia also said: "Number one, there is no need for an RT-PCR or rapid antigen test, you are not required to get one.
"Number two, there is no need for a vaccination card to vote. And number three, even a face shield is not required; just a face mask is okay."
Garcia's remarks can be heard from the report's 36-second mark.
He added voters who show symptoms of Covid will still be allowed to vote in an "isolation polling precinct" to be set up by the poll body.
Erroneous report
Keyword searches on Google found Frontline Tonight issued a correction to its January 27 report that was shared in the false posts.
In its February 10 episode, the same anchor who presented the erroneous report said: "A correction to our report last January 27.
"Individuals will be allowed to vote in the elections in May, whether vaccinated or unvaccinated. According to the Comelec, voters do not need to show a negative swab test result. There is also no need to present a vaccination card before voting."
The erroneous report could no longer be found on the online accounts of News5 -- TV5's news division.