Facebook posts show shrine removed in 2018 operation to clear illegal structures
Facebook posts shared thousands of times show photos of a digger tearing down an Islamic shrine in Uttar Pradesh, India. They claim the demolition took place after controversial Hindu monk Yogi Adityanath retained power of the state in elections in March 2022. However, the shrine was removed in 2018 after a court ordered a Hindu pilgrimage site to be cleared of encroachments. Police and local residents told AFP in April 2022 that there was currently no such demolition.
"The Islamic shrine illegally encroaching on Govardhan Parikrama Marg are being removed by bulldozer. Only Yogi Baba has the ability to do this. Long live Yogi!" reads a Hindi-language Facebook post from April 4 shared more than 5,500 times.
The Govardhan Parikrama Marg is a Hindu pilgrimage path in the district of Mathura in Uttar Pradesh, which is popularly held to be the birthplace of Hindu deity Krishna.
"Yogi Baba" refers to Yogi Adityanath, a firebrand monk and poster boy of Hindu nationalism who was re-elected chief minister of the state in elections in March 2022, in a triumph for Prime Minister Narendra Modi's ruling Bharatiya Janata Party (BJP).
During the election campaign, Adityanath was dubbed "Bulldozer Baba" for his reputation for tearing down illegal constructions on government land.
A screenshot of the misleading post taken on April 20, 2022
The photos were shared in similar posts here and here on Facebook, and here and here on Twitter.
However, the photos were taken years before Adityanath's 2022 election victory.
A reverse image search on Google found the pictures posted on Facebook and Twitter in November 2018.
Below is a screenshot comparison of the misleading images (left) and the images shared on Facebook in 2018 (right).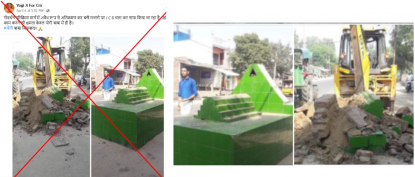 Screenshot comparison of the misleading images (L) and the images shared in the Facebook post from 2018 (R)
"All the shrines built illegally on Govardhan Parikrama Marg were demolished today. Keep in mind this was all illegal encroachment under the previous government. There is no place for illegal activities under Yogi Adityanath's rule," the Facebook post reads.
A closer look at one of the photos reveals a sign for a restaurant called Kanha Bhojanalaya.
AFP contacted the restaurant owner Madan Kumar, who said the demolition happened in 2018.
"This is in front of my restaurant in Radha Kund, on the Chhatikara Road where the shrine was removed in 2018," he told AFP.
"Currently, there is no such demolition here."
Radha Kund is a pilgrimage site near the Govardhan Parikrama Marg. Both are situated on a 21-kilometre (13-mile) path called Parikrama Marg.
Court order
A keyword search on Google found media reports about the removal of illegal structures in Radha Kund in November 2018.
"Local people protested when police removed illegally constructed shrines, graves and other constructions on the Parikrama Marg,"  Hindi newspaper Dainik Jagran reported on November 12, 2018.
"The police also removed an illegal tomb located in the middle of the road in Radha Kund (Vrindavan, Uttar Pradesh), which angered the people."
Local media outlets Neo News, Amar Ujala and In Khabar also reported on the demolitions in November 2018.
Neo News broadcast images of the demolition, which show the same shrine in misleading posts. The channel's editor Goldie Srivastava, who covered the story in 2018, said the pictures were circulating in a false context online in 2022.
Screenshot of a Neo News report from 2018 showing images of the shrine
Sub Inspector of Vrindavan police station, Jitendra Kumar Dwivedi, said the shrine was removed in 2018.
"We removed this illegal construction in 2018 after an order from the court. The court had declared the entire Parikrama Marg as a no-construction zone," he told AFP.
"These photos are from 2018. Currently, there is no such demolition."

April 25, 2022 This article was modified to clarify that a court ordered the Govardhan Parikrama Marg to be cleared of all encroachments, not just the Islamic shrine, and that the path is located in Mathura district, not Mathura city.