Figure skating body did not 'recognise' figure skater's quadruple axel at Beijing Winter Olympics
Multiple Chinese-language social media posts shared tens of thousands of times claim the International Skating Union (ISU) "recognised" Japanese figure skater Yuzuru Hanyu's quadruple axel jump at this year's Beijing Winter Olympics. The two-time Olympic champion was filmed falling after attempting the sport's most difficult jump and eventually placed fourth in this year's competition. The posts are false: the ISU told AFP that Hanyu's quadruple axel attempt was unsuccessful. The official judges' scores for the event also show Hanyu failed to complete the jump.
The claim was shared in a simplified Chinese-language Weibo post by a Chinese media organisation on February 10, 2022.
The post was reshared more than 54,000 times.
"According to Yahoo Japan and many other foreign media sources, #hanyuyuzuru4A was recognised by the International Skating Union," the post reads.
"4A" refers to the quadruple axel jump in figure skating, which consists of four-and-a-half rotations in the air.
It is considered the most difficult jump in the sport and has not been successfully performed at the Olympics to date.
The post circulated online as Nathan Chen of the United States dethroned two-time Olympic champion Hanyu in Beijing.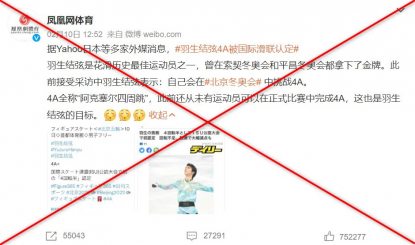 A screenshot, taken on February 15, 2022, of the misleading post.
A similar claim was shared on Weibo here and here; on Twitter here and here; and on Facebook here and here.
Two reports published here and here on Yahoo Japan also make the same claim.
However, the claim is false.
In response to the posts, a spokesperson for the International Skating Union told AFP: "According to the detailed Judges' scores, the jump was under-rotated, therefore it was not ratified."
Keyword searches on Google found the judging scores for the Olympics figure skating event here.
The tally shows a "<" sign next to Hanyu's quadruple axel attempt.
This indicates an error, according to guidelines published here by the International Skating Union.
A screenshot, taken on February 18, 2022, of the judges details per skater record with the Quadruple Axel element circled in red by AFP..
Official footage of the event shows Hanyu fell after attempting the quadruple axel jump.
The failed jump can be seen at the video's two-hour 49-minute mark: