Posts share photos of two different women after hijab ban protests in India
Following a ban on Islamic headscarves in schools in a southern Indian state that sparked protests, Facebook posts shared two photos that they claimed both show a Muslim student who was harassed for wearing a hijab at a college. The posts claimed one of the photos shows the student without her hijab, and accused her of hypocrisy. In fact, the photo shows a different woman, who told AFP her image had been misused. 
"Whoever thinks these are two different women needs to wear glasses," reads a Hindi-language Facebook post shared on February 10, 2022.
The top photo shows a woman wearing make-up and Western clothes alongside the caption: "This is normal life".
The bottom photo of a woman wearing a black hijab includes the caption: "This is propaganda life".
The picture of a woman wearing a hijab was taken from a widely-shared video of a student shouting "Allahu Akbar" ("God is greatest") after being harassed by Hindu men in the southern Indian state of Karnataka.
The student, later identified as Muskan Khan, gave interviews to various Indian media outlets including NDTV and The Wire.
In the same state, a local school's decision to ban hijabs from the classroom sparked protests in February 2022 and highlighted religious tensions in majority-Hindu India.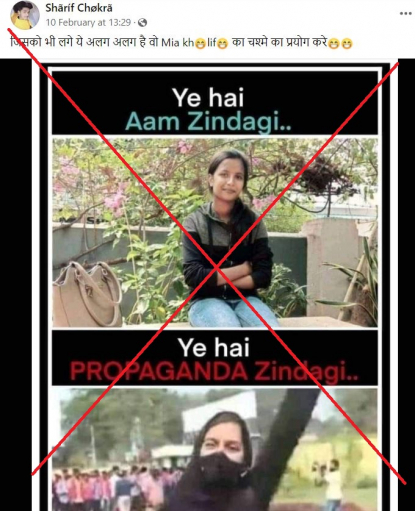 Screenshot of the misleading post taken on February 15, 2022
The image was shared alongside a similar claim on Facebook here, here, here and here.
However, the claim is false.
The girl without the headscarf is not Muskan Khan.
A keyword and reverse image search found the original photo posted on May 13, 2018 on the Facebook profile of Najma Nazeer.
Below is a screenshot comparison of the image in misleading posts (left) and Nazeer's image from her Facebook profile (right):
Screenshot comparison of the image in misleading posts (L) and Nazeer's image from her Facebook profile (R)
Nazeer describes herself as a social activist. She joined regional political party Janata Dal (Secular) in 2020, local media reported.
Contacted by AFP, she said her photo had been misused in social media posts about the hijab row.
"They are sharing my image because they are against me as I work for constitutional rights," she said.
Below is a different photo of Nazeer taken from her Facebook profile (left) and the photo of her circulating in misleading posts (right).
Comparison of a photo of Nazeer taken from her Facebook profile (L) and the photo of her circulating in misleading posts (R)