Disinformation at heart of Gulf feud
When rumours of an uprising in the tiny gas-rich state of Qatar emerged online last month, a flurry of videos and tweets showing gunfire and explosions purported to show the unrest. But there was no coup. Disinformation in the Gulf and more broadly in the Middle East has fuelled the ongoing diplomatic crisis between Qatar and Saudi Arabia along with Bahrain, the United Arab Emirates and Egypt.
A tweet claiming to show the start of a coup in Qatar, with shaky footage of an illuminated window and crackling gunfire, spread quickly after being posted last month.
It came from an account with a profile picture of the Saudi king but, at the time the video was posted, no followers. It has been viewed more than 250,000 times since May 4.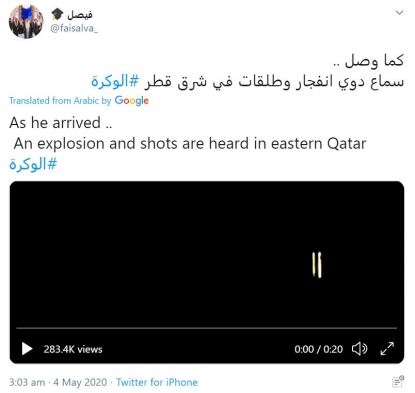 A screenshot of the misleading tweet, taken on June 3, 2020
Experts say it was boosted by automated "zombie" accounts ahead of the third anniversary of a diplomatic feud on June 5, 2017, when Saudi Arabia and others abruptly cut ties with Qatar over their insistence it was too close to Iran and backing radical Islamist movements.
The footage prompted a wave of doctored videos and tweets purporting to show violence in Qatar. Most were quickly debunked and many Twitter users from Qatar mocked the idea there was a coup in their country.
But one user's video of a calm morning in Qatar, in which he jokingly commented on the non-existent coup, was then shared by disinformation spreaders with the sound of gunfire dubbed over the original clip (see here).
الوكرة فيها إطلاق نار ???
#الوكرة pic.twitter.com/YVioum40PJ

— راشد الهاملي ?? (@Alhamli_70) May 4, 2020
Since then, many of the accounts that were used to spread the rumours have been deleted. According to Doha-based academic Marc Owen Jones, the operation marked "a new phase" in the ongoing disinformation campaign targeting Qatar since 2017.
The cyber onslaught is the latest front in a dispute which erupted following an apparent hack of Qatar's state news agency website in 2017.
Back then, incendiary comments endorsing Islamist groups appeared on the Qatar News Agency's website and Twitter account, as well as on state-run Qatar TV, credited to the Qatari ruler Sheikh Tamim bin Hamad Al-Thani, alongside criticism of US President Donald Trump.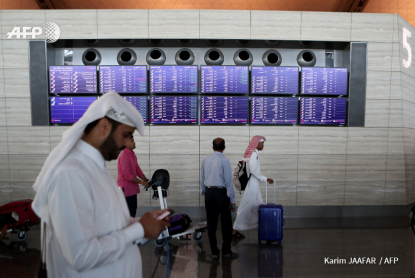 Saudi Arabia cut ties with Qatar in June 2017
In the days before and after the alleged hack, Arabic hashtags including "Qatar is the bankroller of terror" and "cut relations with Qatar" started trending. The former was mentioned more than 15,000 times on May 20 alone, according to analysis by Owen Jones.
Diplomatic crisis
The following month, Saudi Arabia along with Bahrain, the United Arab Emirates and Egypt abruptly cut ties, alleging Doha was too close to Iran and supported radical Islamist movements, and issued a raft of demands.
Despite firm Qatari denials, and promising signs of a breakthrough including a round of shuttle diplomacy and the restoration of some sporting links, reconciliation efforts have ground to a stalemate.
Since 2017, nearly all of the parties to the dispute have faced some form of concerted online disinformation.
"Over the last three years, we've seen peaks and troughs of activity on social media," Jones said.​
An academic at Qatar's Hamad bin Khalifa University, Jones has produced three-dimensional visualisations of suspect posts and apparently automated accounts highlight the vast scale of the current Twitter campaign against Qatar.
8/ the disinformation. The below graphs show the network before and after I have removed 'Retweets'. As you can see, there is a stark difference. Interestingly, you can see accounts are targeting Qatari accounts, such as Al Jazeera Breaking - presumably in the hope it spreads? pic.twitter.com/nRYEIVmWLH

— Marc Owen Jones (@marcowenjones) May 4, 2020
In an interview with AFP, he described it as "one of the first crises in history where we've seen the pretext for it being launched through new digital media".
Disinformation has been at the heart of the ongoing feud, he said.
He argues that the deluge of false claims targeting Qatar is symptomatic of broader problems in the Arabic social media ecosystem.
"If we look at the Arabic social media sphere  I would say it's largely toxic and largely dominated by disinformation," he said.
Disinformation has surged to the fore in recent years with allegations of Russian interference in the 2016 US election.
Coronavirus misinformation and Twitter's flagging of a tweet by US President Donald Trump as glorifying violence has intensified the debate around tech companies' responsibility for content.
Jones said social media firms had developed "a very informal opaque system" for countries facing campaigns like the one aimed at Qatar.
The Qatari authorities have responded cautiously, not yet calling publicly for action from the social media giants.
"The first disinformation campaign back in 2017 was unprecedented -- nobody had expected such a coordinated disinformation campaign in this way before," Qatar's Government Communication office told AFP.
Official Source at #MOFA: the Perpetrators of the Electronic Piracy against #QNA website will be prosecutedhttps://t.co/yeLDwF0S2H#Qatar pic.twitter.com/HVaA6y8r6l

— MOFA - Qatar (@MofaQatar_EN) May 24, 2017
"But now, in Qatar and internationally, people have gotten used to these sort of campaigns and no longer take this type of disinformation campaign seriously."
Such campaigns were "damaging the reputations of the governments" orchestrating them, it added, stopping short of calling out any countries by name.
Gregory Walton and Anne Levasseur, AFP Doha bureau