Did Bolivia's interim president delete anti-indigenous tweets?
Since her arrival at the Government Palace on November 12, tweets, Facebook posts, and online articles have claimed that Bolivia's interim president, Jeanine Anez, deleted some of her old tweets denigrating the first nations of Bolivia. AFP Factcheck found that some of Anez's tweets do appear to have been deleted.
Multiple tweets and Facebook posts highlighting anti-indigenous statements from Anez have surfaced online since the deputy Senate speaker proclaimed herself interim president of Bolivia on November 12, 2019.
Some of the purported statements were translated into English and shared on social media in North America. 
-- The Aymara New Year --
This Facebook post is captioned: "Here's new Christian fundamentalist Bolivia President Jeanine Anez calling the Aymara people (42% of the population) and their practices 'satanic'". 
The Facebook post shares a screenshot of a purported tweet by Anez denigrating the indigenous Aymara nation's New Year celebration, calling it "satanic" and adding that "nobody can replace God."
Below is a screenshot of the post: 
Screenshot taken on November 14, 2019 of a Facebook post
The Aymara people make up 41 percent of Bolivia's population, including former president Evo Morales. They celebrate the new year on June 21 of each year, marking the beginning of a new agricultural cycle.
Anez did post a tweet on June 20, 2013, on the eve of the Aymara celebration, which was later deleted.  The tweet is still available on the online archiving platform Wayback Machine.
Anez referred to the Aymara New Year in another tweet on December 31, 2016, stating: "Those who celebrate the Aymara New Year in whatever month, I don't want to see them drunk tomorrow saying 'Happy New Year'."
-- Bolivia 'free' of indigenous people --
Another purported tweet from Anez was shared widely on English-language social media, with some Western media relaying it. 
For example, this tweet posted on November 13, 2019 says: "She previously tweeted (since deleted): 'I dream of a Bolivia free of indigenous satanic rites, the city is not a place for Indians, they must go to the highlands or lowlands!' This racist sentiment towards Evo Morales & Bolivia's majority indigenous is a huge part of the #coup."
The tweet shared a purported screenshot of an April 14, 2013, tweet by Anez saying: "I dream of a Bolivia free of satanic indigenous rites, the city is not a place for indians, they must go to the highlands or the plains."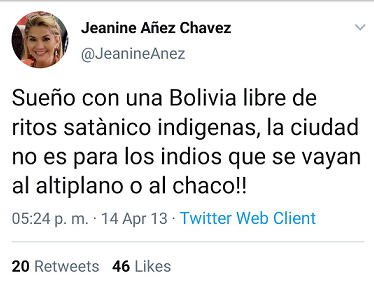 Screenshot of a Facebook post taken on November 15, 2019
An identical screenshot is used in all Facebook and Twitter publications that include this tweet, always with the same amount of likes and retweets. The profile photo for the tweet is also the same across social media publications, which is the one the politician had before proclaiming herself interim president.
AFP Fact Check accessed the Bolivian president's tweet capture history, on Wayback Machine and found no record of this publication. An advanced search on Google does not show any signs of it either. We cannot be sure this tweet was ever published. 
-- Evo, the "poor indian" --
Screenshot of a tweet taken on November 13, 2019
In a now deleted October 5, 2019 tweet, Anez called the then president of Bolivia Evo Morales a "poor indian" "clinging to power," alongside a cartoon of the politician hanging on to a throne, with the message "last days in power" added in yellow letters.
An AFP journalist made a capture of the tweet on Anez's account minutes before it was deleted. It is also available on Wayback Machine.
-- Doubts about native people --
Although AFP Fact Check did not find any English version of this tweet either, a screenshot of it was viral on Spanish-language social media.
In it, Anez doubted whether the people who appear in the photo above with shoes on were indeed native people. Though the tweet, originally published on November 6, was later deleted, it remains available on Wayback Machine and Google advanced search.
Captura de pantalla de una publicación recuperada con Wayback Machine, realizada el 13 de noviembre de 2019
-- Anez's justification --
Following questionning regarding her Twitter activity, Anez denied on November 15 that she had written "ill-intentioned" tweets and accused Morales' ex-government of resorting to "digital warriors" in order to falsify social media accounts.
"I've seen a couple of tweets that I never wrote and that we already stated were false," Anez said during a press conference, without specifying which tweets she was referring to.
Anez proclaimed herself acting president on Tuesday, November 12, the day after former president Evo Morales fled the country for Mexico, fearing for his safety amid deadly protests.
 This article was translated from Spanish by Louis Baudoin-Laarman.

This article was updated on 21/11/2019 to clarify that the tweets could not be found online, not that they were never posted.