Decontextualized 'yellow vests' photos
Photo posts denouncing police response to France's "yellow vest" protests have been shared nearly 50,000 times in English. Although police abuses have been reported in the past months, only two of the four photos shared depict the recent anti-government protests, while the others predate current president Emmanuel Macron's election.
On Facebook, "yellow vest" supporters in the UK and North America have shared a collage of the same four photos nearly 50,000 times since the beginning of February, supposedly proof of police repression during the anti-government movement in France.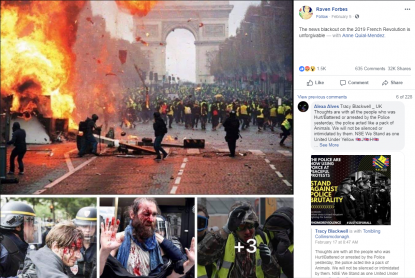 Screenshot of a Facebook post taken on February 26, 2019
The top photo was indeed taken during a "yellow vest" protest in Paris. The November 24, 2018 protest on the capital's Champs Elysées avenue led to the burning of a truck, seen on the left of the image taken by Paris Match photographer Pascal Rostain.
The bottom right photo featuring three "yellow vests" protesters wearing masks, one of whom is injured, is also from the ongoing anti-government mobilization. It was taken in Paris by AP photographer Thibault Camus in December 2018.
The bottom left photo, depicting a bleeding man surrounded by French riot police dates back to September 2016, during mobilizations against a reform of French labour laws. AFP Fact Check was not able to identify the photographer of the image, which was published amid other pictures on this Turkish website.
The photo of a bearded man raising his blood-covered hands, (bottom-center of the post), is an AFP photo from June 14, 2016, and also dates back to protests against the labour laws reform. AFP photographer Alain Jocard captured the scene and took other photos of the same man, which are available here.
Similar posts abroad
The earliest posts using the photos out of context originated in Latin America and included a photo taken in Spain in 2017. Eventually, the images were shared in France as well.
Screenshot of a Facebook post taken on February 26, 2019
This instance of the post also features, on the center right, a photo of a man dragged by French riot police. However, the photo was first published in March 2016 by a Russian TV station, which took credit for the footage. It was also taken during protests against labour law reforms.
Police violence in France
Violence during the "yellow vest" protests has been widely reported since the first protest in November 2018. The French agency in charge of investigating police wrongdoing, the IGPN, had opened 116 investigations as of February 9, a police source told AFP.
According to the French anti-police brutality collective "Desarmons-les," 146 people were injured in clashes with police since November 17, 2018.