Chinese authorities have not recorded 300,000 confirmed novel coronavirus cases; there is no precise figure available for overall infections (as of February 4, 2020)
A story that has been shared in multiple posts on Facebook in Nigeria claims that more than 300,000 Chinese people have been infected with the novel coronavirus. The claim is misleading: Chinese health authorities have recorded just over 20,400 confirmed cases as of February 4, 2020, and experts say that there is currently no precise figure available for overall infections. 
The claim was shared on January 29, 2020, on this Facebook page belonging to popular Nigerian entertainer and activist Charles Oputa, also known as Charly Boy. His page has more than 100,000 followers. 
The post's caption reads in part: "Hundreds of Chinese left Nigeria for China to celebrate their annual festival – Lunar New Year – to return next week. At the moment over 300,000 Chinese are already infected with the coronavirus. The Federal Government should take serious precautions and preventive actions before we have an epidemic in Nigeria if some of them return with the Virus."
Screenshot of the misleading Facebook post
Nigeria is host to tens of thousands of Chinese expatriates. Anticipating returns following China's 15-day annual festival marking the start of the lunar calendar year, the government of the West African country is taking precautions against the fast-spreading coronavirus.
The post, which has been shared more than 1,500 times, included three unrelated images. Reverse images searches show that they have been circulating on social media since 2003, accompanying stories about that year's outbreak of Severe Acute Respiratory Syndrome (SARS), for example here. 
A similar claim was published on Facebook here, here and here, while this post claims more than "44,000 Chinese are already infected with coronavirus and 300,000 under watch." 
As of February 4, 2020, 427 have been killed by a new strain of coronavirus since its emergence in late 2019, as reported by AFP.
The new virus, temporarily named "2019-nCoV," is in the "family of viruses that include the common cold, and viruses such as SARS and MERS," according to the World Health Organization (WHO).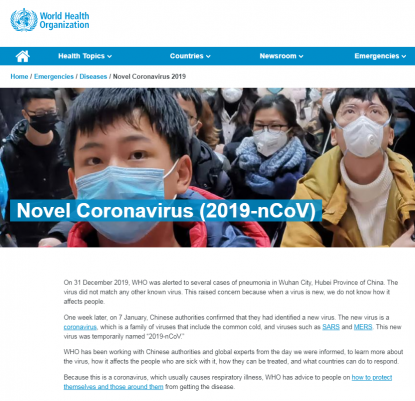 Screenshot taken on January 30, 2020, showing WHO's description of coronavirus
China's National Health Commission keeps a record of confirmed cases in a series of updates prepared by its Health Emergency Office on the new coronavirus infection. 
Screenshot taken on February 3, 2020, showing updates on coronavirus
In the most recent update, Chinese health authorities had recorded a total of 20,438 confirmed cases as of February 3, 2020.
"A confirmed case is a case where the person turns up at a clinic, a clinician takes a sample, and it is confirmed that the virus is present. We have the technology to confirm with a great degree of certainty whether it's a yes or a no," Dr Bharat Pankhania, Senior Clinical Lecturer at the University of Exeter Medical School, told AFP. "But there is no way on earth, when you have a widespread infection, that you are able to sample all cases."
According to the WHO, current estimates of the incubation period range from two to 11 days. 
"We don't know the number of total infections; we think there are people who may not present to health care because they have only light symptoms," Dr Antonia Ho, a Clinical Senior Lecturer and Consultant in Infectious Diseases at the University of Glasgow, told AFP. "There are modelling studies that present high numbers but these are often wildly variable at the start of an outbreak; they are predictions to allow governmental agencies to plan responses. In order to truly identify the number of infections, you would have to do a population study with blood tests to look for antibodies for the novel coronavirus." She said she expected this to take place several months down the road. 
While no confirmed case has been recorded in Africa, countries in the continent, including Nigeria, are taking steps to combat the spread of the virus whose origin was traced to a wildlife market in the central Chinese city of Wuhan, as AFP reported here.

CORRECTION (04/02/20): AFP corrected the post to clarify the difference between novel 
coronavirus infections and confirmed cases, adding comment from two experts. We have also 
updated the article to include the latest outbreak figures  as of February 4, 2020.