Fake PEP job ads resurface in South Africa
Fraudulent job adverts targeting workers in South Africa have resurfaced online. Since December 2021, numerous Facebook posts claim to offer jobs and paid internships in the country's leading retail company, PEP Stores. But the posts are a scam: the accompanying links lead to a suspicious website, and PEP Stores has denied any association with the page behind the purported listings.
More than 28,000 online users have shared the fake job advertisements from this Facebook post from December 28, 2021. It was published by a page called "SA Retail Jobs" displaying the altered version of PEP's original profile picture.
"Pep Stores Learnership Programme 2022," reads the headline of the post promising a stipend for the supposed role.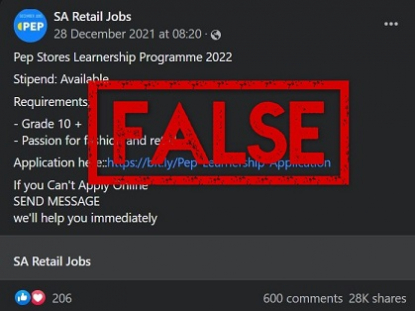 Screenshot of the false job ad, taken January 13, 2022
In addition, the post asks online users to send applications for the purported position either through a Google site link or a private message to the page author.
 Another false post has since been deleted.
Screenshot of the false post, taken on January 13, 2022
A similar advert claims to be "looking for 250 Cleaners and General Workers" for immediate employment.
PEP Stores is a major retail chain in Africa that stocks a variety of products ranging from clothes and footwear to homeware. 
The posts on Facebook are the lastest in a series of false job opportunities targeting PEP Stores. AFP Fact Check previously debunked similar fake job opportunities at PEP Stores in April 2021. 
Fake PEP job listings on Facebook
PEP Stores has dismissed Facebook pages publishing the fake job ads.
"We can confirm that the account is fake and has been taken down by our social media team," PEP Stores told AFP Fact Check on January 12, 2022.
The retail brand directed AFP Fact Check to the career page of the company's official website for available job vacancies. A quick visit to the page revealed PEP Stores is only hiring for one position: a new manager in East London.
Impostor Facebook page 
The "SA Retail Jobs" Facebook page is registered in the "musician/band" category and has changed its name twice since the account was created on September 23, 2017.
Screenshot showing page transparency information of the imposter page, taken on January 13, 2022
AFP Fact Check traced the application links and found that the false posts are not associated with PEP Stores but lead to job websites with listings that differ from the supposed PEP openings. 
The practice of diverting traffic from Facebook to job aggregator websites is not uncommon in South Africa. AFP Fact Check recently debunked a similar fake job posting with a link leading to a suspicious job website.